Rushdoony New Testament Commentary Collection (3 vols.)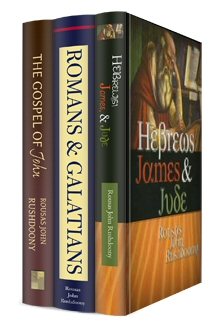 Rushdoony New Testament Commentary Collection (3 vols.)
•
Runs on Windows, Mac and mobile.
Overview
The Bible is God's Word for everyone—in family life, church, state, school business, arts, sciences, law, economics, politics, and all things else. The 3-volume Rushdoony New Testament Commentary Collection contains commentaries on six books of the New Testament. These commentaries affirm the Bible's ability to speak authoritatively in all areas of life. These detailed, verse-by-verse commentaries explore the meaning of key New Testament themes, from Jesus' birth, death, and resurrection, to the countless Old Testament parallels in the Romans and Hebrews, to the implications of the law and of grace in the church today.
With the power of your digital library, the Logos edition of these important commentaries by Rousas John Rushdoony is fully searchable and easier to access than ever! All Scripture references are linked to your favorite Bible translations, which means the text of Scripture is never more than just a click away.
Key Features
Verse-by-verse commentary on six books of the New Testament
Contains a detailed topical index
Useful for Bible study, sermon preparation, and New Testament research
Individual Titles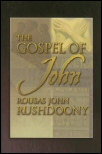 The goal of fallen man is self-deification, to be as God (Gen. 3:5), whereas the goal of redeemed man is to be God's covenant man. Christ's perfect humanity is our standard, not his deity. We cannot have Christ as our God if we will not have him as our true man, as our federal head. In the first Adam, we are born into sin and death; in the last Adam, we are born into justice or righteousness and life.
Jesus is the true bread of life, come down from heaven. His flesh, his true humanity, is our bread of life; this he gives for the life of the world. We are in him no longer the sinful and death-bound sons of fallen Adam, but the just and life-bound people of the last Adam. Christ gives us his flesh, his glorious humanity, so that we are remade into people of righteousness and eternal life.
To feed on Christ is to know him as the true man and our only hope for life. We become members of him and serve his purpose, to bring every area of life and thought into captivity to him.
In this commentary, renowned theologian Rousas John Rushdoony maps out the Gospel of John starting from the obvious parallel to the book of Genesis ("In the beginning was the Word") and takes the reader through the glorious conclusion of Christ's death and resurrection.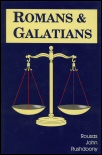 The great problem in the church's interpretation of Scripture has been its ecclesiastical orientation, as though God speaks only to the church, and commands only the church. The Bible is God's Word for everyone in family life, church, state, school, business, arts, sciences, law, economics, politics, and all things else. If we turn loose the whole Word of God onto the church and the world, we shall see with joy its power and glory—in all areas of life. Toward this end is the purpose of Rushdoony's commentaries on Romans and Galatians written.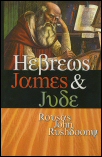 There is a resounding call in Hebrews which we cannot forget without going astray: "Let us go forth therefore unto him without the camp, bearing his reproach" (13:13). This is a summons to break with Judaism, i.e. the reigning, commanding culture of the Hebrews, and to serve Christ, the Redeemer-King, fully and faithfully, without compromise. In our time, it calls for a break, not only with the prevailing culture of humanistic statism and its messianic claims and pretensions, but also with a wayward church that has made itself the handmaiden to Christ's enemies.
When James, in his epistle, says that faith without works is dead, he tells us that faith is not a mere matter of words, but it is of necessity a matter of life. We are dead men if we no longer can breathe, and we are spiritually dead if our faith is unaccompanied by works. Too many churches are like graveyards because too many members have no living faith. "Pure religion" requires Christian charity and action. Anything short of this is a self-delusion. James' letter is a corrective the church needs badly.
Jude similarly recalls us to Jesus Christ's apostolic commission: "Remember the words which have been spoken before by the apostles of our Lord Jesus Christ." Jude's letter is usually classified as an apocalyptic tract, but we cannot forget that all the Bible speaks of is a division between fallen and redeemed humanity, between the saved and the lost, of the necessity for a new creation beginning with us, and of the inescapable triumph of the Kingdom of God.
Product Details
Title: Rushdoony New Testament Commentary Collection (3 vols.)
Author: Rousas John Rushdoony
Publisher: Ross House Books
Volumes: 3
Pages: 1,004
About Rousas John Rushdoony
Rousas John Rushdoony (1916–2001) was a well-known American scholar, writer, and author of over thirty books. He held B.A. and M.A. degrees from the University of California and received his theological training at the Pacific School of Religion. An ordained minister, he worked as a missionary among Paiute and Shoshone Indians and as a pastor to two California churches. He founded the Chalcedon Foundation, an educational organization devoted to research, publishing, and cogent communication of a distinctively Christian scholarship to the world at large. His writing in the Chalcedon Report and his numerous books inspired a generation of believers to be active in reconstructing the world to the glory of Jesus Christ. Until his death, he resided in Vallecito, California, where he engaged in research, lecturing, and assisting others in developing programs to put faith into action.
More details about these resources