Adventist Millennials: What They Really Believe (4 vols.)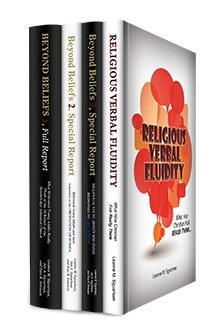 Adventist Millennials: What They Really Believe (4 vols.)
•
Runs on Windows, Mac and mobile.
Overview
As the largest generation in the United States today, reaching Millennials is an urgent priority of the SDA Church—but how well do church leaders and members really know them and what actually they think about SDA beliefs? Where is the SDA Church succeeding with Millennials, and where can it strengthen its approach?
Designed to fill these gaps in understanding, this collection presents recent research that offers insight into the Millennial generation. The Beyond Beliefs series reports and exegetes doctoral research on the spiritual attitudes of Millennial Adventists about SDA doctrines and practices, and also their worldview—what's important and what isn't. Identifying themes that resonate with Millennials, as well as where the SDA Church is succeeding and where it could be strengthened, the research opens a window into the minds and hearts of SDA Millennials and the church's current mission. This collection is designed to equip leaders, pastors, and anyone who works with people of this age for more effective ministry. It includes three Beyond Beliefs reports: one full report—including the original written responses of participants—and two special reports.
Broadening the value of this collection is a supplementary research report: Religious Verbal Fluidity: What Nice Christian Folk Really Think—which summarizes data from a sampling of respondents of different ages, nations, ethnicities, socio-economic levels and educational backgrounds on a variety of contemporary religious topics.
In the Logos edition, this collection is enhanced by amazing functionality. Scripture citations link directly to English translations, and important terms link to dictionaries, encyclopedias, and a wealth of other resources in your digital library. Perform powerful searches to find exactly what you're looking for. Take the discussion with you using tablet and mobile apps. With Logos Bible Software, the most efficient and comprehensive research tools are in one place, so you get the most out of your study.
Key Features
Presents important research on Millennials' attitudes toward Adventist beliefs
Identifies where the SDA Church is succeeding with Millennials and where it isn't
Opens a valuable window into the hearts and minds of America's largest generation
Includes an additional research report, drawing on responses from people of a variety of ages, nationalities, and backgrounds
Individual Titles

Beyond Beliefs 1, Full Report: What Millennial Young Adults Really Think of the 28 Beliefs of the Seventh-day Adventist Church
Authors: Leanne M. Sigvartsen, Jan A. Sigvartsen, and Paul B. Petersen
Publisher: Jan & Leanne Sigvartsen
Publication Date: 2014
Pages: 454
This report provides a comprehensive and data-rich overview of how Millennial young adults feel about the 28 beliefs of the Seventh-day Adventist church: what they like or dislike about each particular belief, if they think it is important or unimportant, relevant or irrelevant. The Beyond Beliefs report identifies prominent themes for each belief that resonate with Millennial young adults, articulates where the Seventh-day Adventist church is succeeding with this demographic group relational to each belief, along with remedial recommendations. It also contains a range of demographic data pertaining to the participant group that provides further insights into the responses made by the young adults. Beyond Beliefs is a three-part study, undertaken over three cohorts. By its conclusion, it will have assessed more than 3,000 brief qualitative responses and quantitatively assessed approximately 700 participants. This report pertains to the full findings of the first cohort—it includes all graphs, charts, and tables, as well as all 920 brief written responses supplied by young adult participants in the study.

Beyond Beliefs 2, Special Report: Millennial Young Adults and their responses to the Ordination of Women
Authors: Leanne M. Sigvartsen, Jan A. Sigvartsen, and Paul B. Petersen
Publisher: Jan & Leanne Sigvartsen
Publication Date: 2014
Pages: 8
This brief special report is of particular interest and relevance, revealing the opinions and convictions of Adventist Millennials on the most divisive issue facing the SDA Church.

Beyond Beliefs 2, Special Report: Millennial Young Adults and Their Responses to Creation
Authors: Leanne M. Sigvartsen, Jan A. Sigvartsen, and Paul B. Petersen
Publisher: Jan & Leanne Sigvartsen
Publication Date: 2014
Pages: 13
This brief special report is part of the second full Beyond Beliefs report, which researches the attitudes, beliefs, and opinions of the Millennial generation regarding SDA beliefs and current social, behavioral, and religious issues. This snapshot presents research on Millennials' responses to the sixth fundamental belief of the SDA Church: creation. Millennial young adults were asked about their ideas on the origin of the world, how strongly they felt about that view, and whether their faith would be challenged if their view was found to be erroneous.

In Religious Verbal Fluidity, Leanne M. Sigvartsen compiles her research on the attitudes of Christians on a variety of topics of contemporary discussion—including sexism, divorce, nepotism, homosexuality, apostasy, and bequests. This work presents the words of Christians from different ages, countries, ethnicities, socio-economic levels and educational backgrounds, who have lived very different, and at times, difficult lives. Sigvartsen calls church leaders, pastors, and lay members to stop guessing and get a real overview of Christian perspectives and experiences with relation to some touchy topics. Her work offers a window onto how people experience their faith and what life experiences influenced it, identifying what people need from their churches and from each other. It also provides insight into where the church is succeeding, and where there is room for improvement. Most of all, Sigvartsen suggests, these perspectives give us the opportunity to learn from others and collaboratively seek a solution that benefits all.
About the Authors
Leanne M. Sigvartsen holds bachelor, post graduate and masters qualifications in psychology and counseling. She has designed and managed a number of research projects including the Sex and Sensibility study, which investigated sexist and sociocultural attitudes among Seventh-day Adventists. She has formerly worked in treating youth and young adults who had experienced workplace sexual assault, sexual harassment, bullying, and unfair dismissal and discrimination.
Jan A. Sigvartsen has worked as an adjunct professor at the Seventh-day Adventist Theological Seminary and the Religion and Biblical Languages Department at Andrews University. He is currently concluding his PhD in religion at Andrews University, investigating the use of the Tanakh in the development of the resurrection concept in the literature of Second Temple period and early rabbinic Judaism. He has also been a visiting research fellow at Hebrew University of Jerusalem. He is the founder and director of ClergyEd.com—which provides free and at-cost resources and services to academics and students of ministry disciplines around the world—and author of ExegesisPaper.com.
Paul B. Petersen is currently the chair of the Religion and Biblical Languages Department at Andrews University. He completed his BA and MA in religion in Copenhagen, Denmark, and earned his PhD from Andrews University. Formerly he served as a youth leader, junior college pastor, and conference president of the Seventh-day Adventist Church in Denmark. He has also worked as a theological consultant for the South Pacific Division and a liaison for ministerial education at Avondajuniorle College, Australia, Pacific Adventist University, Papua New Guinea, and other institutions. He has preached and taught in many places in Australia and the Pacific Islands.