Dictionnaire de la Bible (5 tomes)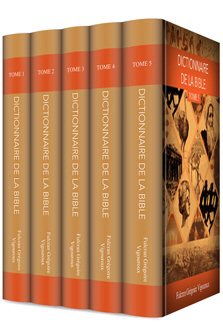 Dictionnaire de la Bible (5 tomes)
•
Runs on Windows, Mac and mobile.
$30.00
* Projected price. Future bids may change this price.
Place Your Bid!
Click on the highest price you'd pay. If the final price is lower, that's what you'll pay.
Survol
Le Dictionnaire de la Bible est une référence essentielle pour l'étude de la Bible en langue française. Ce dictionnaire était né sous l'impulsion de la lettre encyclique, Providentissimus Deus (De l'étude de la Sainte Ecriture), du pape Léon XIII, dont il reproduit le contenu en latin. Ce dictionnaire procède de cette réaction catholique à l'étude critique des Ecritures menée par la Réforme protestante, et fournit la meilleure science biblique de l'époque au public désireux d'approfondir ses connaissances bibliques. Ses éditions furent nombreuses, par fascicules d'abord, puis par volumes. Fulcran Vigouroux est aussi impliqué dans la création de La Sainte Bible Polyglotte—une éditon de la Bible Polygotte en hébreu, grec, latin et français.
Chez les éditons de Logos, ces ouvrages sont enrichis par l'addition de fonctions et de caractéristiques. Les références bibliques sont liées directement aux traductions de la Bible, les termes théologiques sont liés aux dictionnaires, aux encyclopédies, et à beaucoup d'autres livres de votre bibliothèque. Recherchez avec la puissance avec Logos Bible Software et un de nos Base Packages pour trouver les meilleurs informations selon un des meilleurs spécialistes du temps de la Réforme. Avec nos applications mobiles, vous pouvez consulter ces textes et tous les autres n'importe où pour avoir la meilleure expérience.
Principales caractéristiques
Un dictionnaire de la Bible publié originalement en 5 tomes intégré dans votre bibliothèque Logos
Une avertissement très importante par un spécialiste de la Bible très connu et respecté dans l'Académie française
Une copie et traduction en français de l'encyclique, Providentissimus Deus, du Pape Léon XIII
Des lettres de S. Ém. Le Cardinal Bourret, l'Évêque de Rodez et d'autres Leaders de L'Église
Biographie d'auteur
Fulcran Grégoire Vigouroux est né à Nantes en 1837 et il est mort à Paris en 1915. Il a été un prêtre de la Compagnie des Compagnie des prêtres Saint-Sulpice, qui enseigna l'Écritrue Sainte, un titre utilisé à l'époque pour les études Bibliques. Et puis de 1860 à 1895 il enseigna à l'Institut catholique de Paris (1890–1903). Après cela il fut choisi pour aller à Rome pour devenir le secrétaire de la Commission pontificale pour les affaires bibliques. Il est l'auteur de plusieurs de livres comme Manuel Biblique (1880), Dictionnaire de la Bible (1891–1912), et il fut le concepteur d'une Bible polyglotte (1900–1909).