Mobile Ed: PD151 Do This Not That to Transform Your Marriage (4 hour course)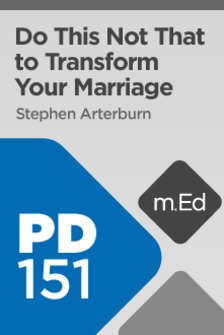 Mobile Ed: PD151 Do This Not That to Transform Your Marriage (4 hour course)
•
Runs on Windows, Mac and mobile.
Overview
In this course, Stephen Arterburn considers biblical misinterpretations, common misconceptions about marriage, and the tragedy of divorce, before discussing tools you can begin using right now to strengthen your marriage. You'll get practical tips on what to do and what not to do. Whether you're struggling with issues in your marriage or looking for ways to improve it, you'll appreciate these clear steps.
Course Outline
Unit 1: The Christian Marriage
Biblical Misinterpretations That Hurt Marriages
More Biblical Misinterpretations That Hurt Marriages
Defining a Christian Marriage
The Impact of Divorce
The Power of Godly Marriages
Three Elements of a Great Marriage
Willingness Ensures a Strong Foundation
Performing a Sense Search for "Courage" and Using Visual Copy
Unit 2: Seven Things to Stop for a Better Marriage
Stop Thinking Only about Yourself
Stop Tolerating Compulsions, Addictions, and Dependency
Stop Holding on to Anger and Resentment

Differentiating between Words for Anger in the Bible

Stop Trying to Fix or Change Your Mate
Stop Drowning in Suspicion and Jealousy
Stop Clinging to Unrealistic Expectations
Stop Obsessing over the Past and Past Mistakes
Review of the Seven Things to Stop Doing
Unit 3: Seven Things to Do for a Better Marriage
Start Showing Respect to Your Spouse

Discovering the Meaning of a Greek Word in Logos
What If Your Spouse Does Not Respect You?

Start Practicing Lifetime Vows

Finding Practical Applications with Thematic Outlines
What If Your Spouse Does Not Honor the Lifetime Vow?

Start Affirming Your Spouse's Strengths

What If Your Spouse Does Not Affirm Your Strengths?

Start Focusing on Celebrating and Having Fun
Start Responding Romantically to Your Mate

Sexual Satisfaction and Competency
What If Your Spouse Does Not Respond Romantically?

Start Expressing Grace and Forgiveness

What If Your Spouse Does Not Express Grace or Forgive You?

Start Spending Money More Responsibly: Seven-Point Plan

Spending Plan: Points 1–3
Spending Plan: Points 4–7
Financial Responsibility: Vision and Action
Unit 4: Opportunities
Opportunities for Couples and Churches
Daily Devotions with Your Spouse
Product Details
Title: PD151 Do This Not That to Transform Your Marriage
Instructor: Stephen Arterburn
Publisher: Lexham Press
Publication Date: 2014
Product Type: Logos Mobile Education
Resource Type: Courseware, including transcripts, audio, and video resources
Courses: 1
Video Hours: 4
About Stephen Arterburn
Stephen Arterburn is the founder and chairman of New Life Ministries, and host of the #1 nationally syndicated Christian counseling talk show New Life Live. He is also the founder of the Women of Faith conferences attended by over four million people, and he serves as a teaching pastor at Heartland Church in Indianapolis, Indiana.
Arterburn is the bestselling author of Every Man's Battle, Lose It for Life, Healing Is a Choice, Is This the One?, and Walking Into Walls. He has over seven million books in print and three Gold Medallions for writing excellence.
Getting the most out of Mobile Ed
Logos Mobile Education is a highly effective cross-platform learning environment that integrates world class teaching with the powerful study tools and theological libraries available in Logos Bible Software. Every course provides links to additional resources and suggested readings that supplement the lecture material at the end of every transcript segment.
This course was produced with screencast videos. These videos provide tutorials showing you how to use Logos Bible Software in ways that are tied directly into the content of the course. We are now producing Activities resources as a replacement for screencast videos. We plan on updating this course to include this additional Activities resource in the future for no extra charge.