Stan Toler Collection (6 vols.)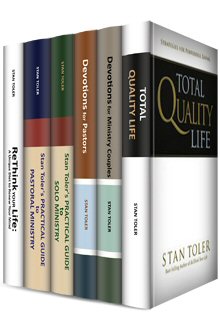 Overview
Stan Toler is the pastor's pastor. For years, he has not only pastored churches, but he has written books and developed resources for fellow pastors. Whether you're a solo pastor in a small church, or a pastor in a large church with a large staff and complex ministry program, Stan Toler addresses the issues you face.
The 6-volume Stan Toler Collection offers rich insight and generous affirmation which will enlighten, encourage, and equip anyone involved in church ministry. Stan Toler helps you create the positive purpose, clear focus, and effective decision-making skills that will improve the quality of your ministry and your relationships with the people you work with. From how-to guides for leading church staffs—both large and small—to devotional guides for pastors and ministry couples, the Stan Toler Collection contains resources for every area of ministry, and provides practical advice to help you become a vibrant and effective ministry leader.
The Logos Bible Software edition of the Stan Toler Collection is specially designed for pastors and church leaders. From advanced search features, to detailed tagging and linking to the Bibles and other books in your digital library, Logos gives you the tools you need to be an effective ministry leader.
Key Features
Devotions and reflections for pastors and ministry couples
Practical ideas to encourage and revitalize your pastoral heart and your church's ministry teams
Links to the Bibles and reference books in your digital library that you own
Product Details
Title: Stan Toler Collection
Author: Stan Toler
Publisher: Wesleyan Publishing House
Volumes: 6
Pages: 1,195
About Stan Toler
Stan Toler is a dynamic leader, author, and international speaker with more than thirty years of leadership experience. Raised in a rural mountain community in West Virginia, Stan assumed his first leadership role at the age of seventeen when he became pastor of Westside Church in Newark, Ohio. As a dynamic senior pastor, television host, and best-selling author, he has devoted his life to sharing the secret to living a vibrant, purposeful life.
More details about these resources