Bible Study Magazine—November–December 2014 Issue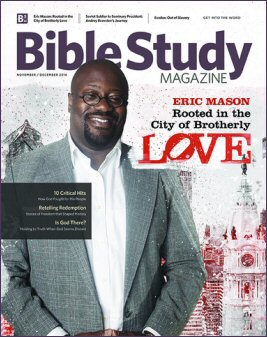 Bible Study Magazine—November–December 2014 Issue
Overview
Get Bible Study Magazine now by purchasing the November–December 2014 back issue for $3.95. That's 20% off the newsstand price of $4.95!
Bible Study Magazine is a print magazine (not an emagazine) published by Lexham Press. Six times a year, Bible Study Magazine delivers tools and methods for Bible study as well as insights from respected teachers, professors, historians, and archeologists.
Read pastor profiles, author interviews, and stories of individuals whose thoughtful engagement with Scripture has shaped their thinking and defined their ministries. Bible Study Magazine reveals the impact of God's Word in their lives—and the power of Scripture in yours.
Each Issue of Bible Study Magazine Includes:
Feature Stories
Discover new ways to connect the Bible with your ministry and life through in-depth interviews and articles from the biggest names in the church and biblical scholarship.
Bible Study Tips
Explore the Word—thoughtful and engaging authors tackle the tough passages in Scripture, explain difficult concepts, and confront complex interpretations in a way that helps the Gospel make sense in your life.
On the Cutting Edge
Keep up to date on the latest news in biblical research, including archaeological and historical findings.
A New Kind of Bible Study
Encounter God by yourself or with other believers with an ongoing Bible study in each issue.
On Teaching
Get advice on how to preach or teach the Bible in any setting from well-known pastors and teachers who use the Bible every day.
Tool Box
Learn how to effectively use the latest Bible study tools with our how-to guides.
In the News
Keep informed about the latest news in biblically related topics, discoveries, and events.
Thoughts from the Ancients
Read the Bible together with those who have come before you, and learn from the wisdom of the early church—in its own words.
Word Studies
Get a close-up view of the Bible! Each issue contains insights about specific words found in the Bible and tutorials on how to do word studies.
If Only Someone Would Explain It to Me
Enrich your understanding of the Bible with explanations of biblical and theological concepts by top scholars.
Did You Know?
Discover interesting facts about the place of the Bible in the contemporary and the ancient world.
What They Don't Tell You in Church
See things you never noticed in biblical passages you have read dozens of times.
Biblical Humor
The funniest stories and the best comics related to the Bible, useful for any setting.
Book Reviews
Stay on top of the latest books about Bible study. Each issue contains reviews of books and commentaries to equip you in your study of God's Word.
Excerpts from the November–December 2014 Issue!
Eric Mason: Rooted in the City of Brotherly Love
When Dr. Eric Mason—church-planter, pastor, and author—began the process of planting a church in inner-city Philadelphia, he envisioned himself as an itinerant minister who spent a couple of years getting things running before moving on. But he soon changed his mind: "I found that with inner-city ministry, you have to be in it for the long haul because these are extremely relational communities. When you're actively involved in an inner-city neighborhood, you develop a 'trust capital' that provides a pipeline for ministry. Building that trust takes time. People aren't going to connect with a brand."—Jessi Strong
From Soviet Soldier to Seminary President
When training his students for ministry, Russian pastor Andrey Kravtsev recalls his early days serving the church, before he felt any sense of God's calling to leadership. "In Russian, the word for minister is the same as the word for 'serve.' If anyone doesn't know how to serve, he cannot learn how to minister, because they are the same thing. You start serving in small things, serving people where they are and doing whatever is needed for your church or community. Then, when the time comes, God gives faithful servers more responsibility—and then more responsibility. But it all starts with humble readiness and availability to serve wherever you are."—Jessi Strong
Not Your Average Bible Study—Lights in the Darkness: 8 Weeks in 1–3 John
Loving people is complicated. It can hurt. It is messy. Because of this, we tend to insulate ourselves from the very people who need our love. First John calls us to push past the fear of making mistakes or getting hurt. It calls us—Jesus' followers, God's children, and the Spirit's vessels—to love others not "with word or tongue, but in deed and truth" (1 John 3:18).—Carrie Sinclair-Wolcott
Special Section—Out of Slavery: Exodus
The Golden Calf (Then and Now)
While reading the golden calf story in Exodus 32, many of us miss the point of the lesson. We may regard the Israelites as quite silly. They have participated in a series of "signs and wonders"—the 10 plagues in Egypt, the drowning of the Egyptian army in the Red Sea, and the awesome divine display on Mount Sinai. Yet after a mere 40-day absence of their leader, Moses, "they made for themselves a molten calf and bowed down to it and offered sacrifices to it" (Exod 32:8). Where did this bizarre idea come from?—Craig C. Broyles
Retelling Redemption
More than 100 years after Sir Arthur Conan Doyle created the famous detective, his classic tales are still being refashioned into popular movies and TV shows. Biblical authors recycled stories, too. Picking up on earlier biblical narratives, biblical authors used them to express God's truth. One central event that shows up multiple times in the Bible is the Passover and the Israelites' subsequent exodus from Egypt.—E. Tod Twist
We have a limited supply of back issues of the November–December 2014 Bible Study Magazine. Get your copy while you still can!
Key Features
Eric Mason: Rooted in the City of Brotherly Love
10 Critical Hits: How God Fought for His People
Retelling Redemption: Stories of Freedom that Shaped History
Is God There? Holding to Truth When God Seems Distant
Product Details
Title: Bible Study Magazine—November–December 2014 Issue
Editor-in-Chief: Rebecca Van Noord
Academic Editor: Michael S. Heiser
Art Director: Christine Gerhart
Graphic Designers: Jim LePage, Patrick Fore, and Josh Warren
Advertising Sales: Chris Cano and Kevin Bratcher
Marketing: Dan Pritchett, Phil Gons, Katie Monsma, and Scott Lindsey
Series: Bible Study Magazine
Publisher: Lexham Press
Resource Type: Magazine
Topic: Biblical Studies