IVP Bible Essentials Series (2 Vols.)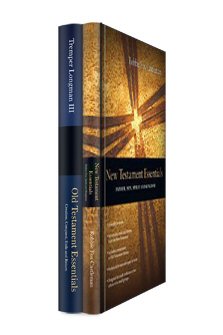 Overview
Designed to work well on your own, with a partner or in a small group, New Testament Essentials offers a comprehensive overview that will enrich your knowledge and deepen your faith.
In the Logos edition, this volume is enhanced by amazing functionality. Important terms link to dictionaries, encyclopedias, and a wealth of other resources in your digital library. Perform powerful searches to find exactly what you're looking for. Take the discussion with you using tablet and mobile apps. With Logos Bible Software, the most efficient and comprehensive research tools are in one place, so you get the most out of your study.
Key Features
Includes connections to biblical themes
Workbook format with space to write
Designed for small group study
Product Details
Title: IVP Bible Essentials Series (2 Vols.)
Series: The Essentials Set
Publisher: IVP
Pages: 366
Resource Type: Bible Studies
Topic: Biblical Studies
Individual Titles

"Christians love the Bible, but they often do not know what to do with the Old Testament," writes Westmont College professor Tremper Longman. Further, he points out that it includes many types of writing—history, prophecy, poetry, wisdom and apocalyptic. In this helpful volume he offers different strategies for understanding each of these important types of writing.
Jesus made a point to tell his disciples that the whole Old Testament anticipated his coming (see especially Luke 24:25-27, 44-45). And so each session includes a special feature called "Anticipating the New Testament." Through this you will begin to discover the links between the two testaments and gain a fuller sense of our unfolding salvation history.
"Tremper Longman is for me—and countless others—a treasured 'go-to' resource to uncover the treasures of Old Testament wisdom. This survey will be of huge value to anyone who wants the big picture of the Great Story."
—John Ortberg, senior pastor of Menlo Park Presbyterian Church and author of Who Is This Man?
Tremper Longman (MDiv, Westminster Theological Seminary; PhD, Yale University) is Robert H. Gundry Professor of Biblical Studies at Westmont College. He is also visiting professor of Old Testament at Mars Hill Graduate School, visiting professor of Old Testament at Westminster Theological Seminary, and adjunct of Old Testament at Fuller Theological Seminary. He lectures regularly at Mars Hill, Regent College in Vancouver, and the Canadian Theological Seminary in Calgary. Longman is the author or coauthor of over 20 books, including An Introduction to the Old Testament (with Raymond B. Dillard) and many others.

"I was introduced to the gospel of Jesus Christ as a college student. The Jesus of the New Testament overwhelmed me, and by God's grace Jesus still does," writes professor Robbie Castleman, author of New Testament Essentials. Her love of Jesus and Scripture is evident in this study, which seeks to answer the question Jesus' disciples posed: "What kind of man is this?" (Matthew 8:27).
New Testament Essentials introduces us to the New Testament in three parts: The revelation of God in Jesus Christ, the indwelling of God in the church by the Holy Spirit and the present and coming kingdom of God. In each of the twelve studies the author helps us to hear Scripture in its own historical and cultural context before guiding us to apply it to our own context.
Jesus' life, teachings and works were thoroughly grounded in the Hebrew Scriptures. And so each session includes a special feature called "Connecting to the Old Testament." Through this you will begin to discover the links between the two testaments and gain a fuller sense of our unfolding salvation history.
"Castleman's choice of key passages is enhanced by her own crisp commentary, by linking these passages to illuminating Old Testament parallels and by offering readers opportunities to share their own reflections on the drama of salvation for their lives today. I can't think of a more positive introduction to the Bible for those who wish to grow in their knowledge of Scripture and faith."
—James R. Edwards, Professor of Theology, Whitworth University
Robbie Fox Castleman (D.Min., University of Dubuque) is professor of biblical studies and theology at John Brown University in Siloam Springs, Arkansas. She previously served for several years as a staff member with InterVarsity Christian Fellowship, specializing in ministry to graduate students at campuses in and around Tallahassee, Florida.
More details about these resources