The Analyzed Bible (10 vols.)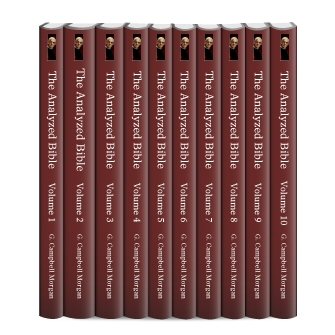 Overview
A collection rich in biblical analysis and wisdom, The Analyzed Bible is an excellent commentary for anyone wishing to obtain a more expansive knowledge of the Bible. This Bible commentary laid an early foundation for later Fundamentalist, conservative, Bible-centric exegesis. Pastoral and eminently applicable, this extensive commentary brings illumination to the theological mysteries of the Bible.
Morgan, long-time pastor of Westminster Chapel in London and mentor of Martyn Lloyd-Jones, made it his aim to share his wealth of knowledge and years of scholarly research as simply as possible, in order to make his works accessible to all. His words have inspired and encouraged thousands in the past century, and will continue to provide excellent, biblically-based hope to all who read his works.
Logos Bible Software provides fast and reliable search results instantaneously, making The Analyzed Bible a highly advantageous set of biblical study tools in electronic format. Morgan's writings will be a valuable asset to your Logos Bible Software library and will assist you greatly expanding in your knowledge of the Bible, of how to approach biblical studies, and of how to live a Christ-centered life.
Key Features
Over 2,500 pages of biblical commentary from one of the greatest theologians from the turn of the twentieth century
Respectable, applicable commentary for Christians in any walk of life
About George Campbell Morgan
George Campbell Morgan (1863–1945), was a contemporary of Rodney "Gipsy" Smith, preached his first sermon at age 13. He was the pastor of Westminster Chapel in London from 1904 to 1919 and then from 1933 to 1943, pausing for a brief period between those timeframes to work at Biola in Los Angeles. In 1939, he began to mentor Martyn Lloyd-Jones, who would eventually become his successor. Morgan's essay entitled The Purposes of the Incarnation are included in a collection called The Fundamentals, a set of 90 essays that is widely considered to be the foundation of the modern Fundamentalist movement.