Joseph Barber Lightfoot Collection (11 vols.)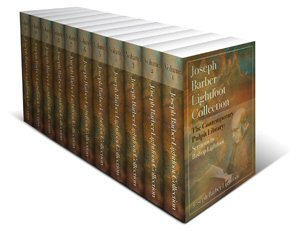 Joseph Barber Lightfoot Collection (11 vols.)
•
Runs on Windows, Mac and mobile.
Overview
Joseph Barber Lightfoot is one of the most influential biblical scholars of the nineteenth century, who along with John Anthony Hort and Brooke Foss Westcott, defended the authenticity of the Bible against modernism and contributed enormously to the discipline of church history. In addition to his extensive scholarly accomplishments, Bible commentaries, and his multi-volume Apostolic Fathers, Lightfoot also devoted his life to the church, serving as canon of St. Paul's Cathedral and as Bishop of Durham.
The Joseph Barber Lightfoot Collection (11 vols.) contains material from Lightfoot's unfinished Bible commentaries, lectures, and manuscripts, including his unpublished notes on the Pauline Epistles—including 1 Corinthians, 2 Corinthians, portions of Romans, and the first chapter of Ephesians—as well as essays on the chronology of Paul's life, the structure of Romans, and the Pastoral Epistles. The Joseph Barber Lightfoot Collection contains four volumes of Lightfoot's sermons—87 sermons in all! This collection also includes Lightfoot's enormously popular series of essays, in which he challenged W. R. Cassel's Supernatural Religion and defended his friend and colleague B. F. Westcott.
What's more, with the power of your digital library, the entire 11-volume Joseph Barber Lightfoot Collection is fully searchable and easier to access than ever! The Scripture references in Lightfoot's commentaries, essays, and sermons are linked to your Bible translations and original language texts, and important theological concepts are linked to dictionaries, encyclopedias, and the wealth of resources in your digital library.
Key Features
Lecture notes and unpublished commentary manuscripts—material not included in Lightfoot's commentaries on Galatians, Philippians, and Colossians and Philemon.
All Scripture references are linked to original language texts and English translations
Four volumes of sermons—87 sermons in all!
Lightfoot's essays challenging W. R. Cassel's Supernatural Religion
Praise for the Print Edition
The ease with which [Lightfoot] passes . . . from one subject to another, from a review of commentaries on St. Paul's Epistles to an emendation of the text of Euripides, from an investigation of the meaning of 'Caesar's household' to the position of the Long Walls at Athens, represents the work of [one] who regards the New Testament as the goal of all his studies.
—Brooke Foss Westcott, author
Lightfoot's research is characterized by clarity and precision, and a historical sense that sees the details within the larger movement of history.
—William Baird
Product Details
Title: Joseph Barber Lightfoot Collection (11 vols.)
Author: Joseph Barber Lightfoot
Volumes: 11
Pages: 3,091
Collection Details
About Joseph Barber Lightfoot
More details about these resources
Show More