Select Works of Benjamin Keach (9 vols.)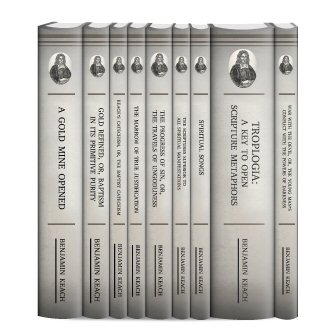 Overview
Bolster your library with key texts in the Baptist tradition. Seventeenth-century Particular Baptist Benjamin Keach was a gifted pastor, writer, theologian, and pioneer in religious education. Walking the difficult line of nonconformity, Keach wrote a number of important works, though frequently persecuted—even once pilloried. However, Keach is perhaps best remembered for pioneering congregational hymn singing. Despite staunch opposition, he served as an outspoken advocate, and led his church in singing hymns in addition to the usual psalms and paraphrases.
This collection presents 9 texts that reflect the varied facets of Keach's career and ministry—offering rich insights that translate powerfully to Christian life and ministry over 300 years later. Examine his work on justification through faith alone. Study the Baptist catechism that bears his name. Explore his guide to the Bible's figurative language. Peruse his compilation of spiritual songs. Discover his allegorical rendering of "ungodliness" and the power of sin.
In the Logos editions, these volumes are enhanced by amazing functionality. Scripture citations link directly to English translations, and important terms link to dictionaries, encyclopedias, and a wealth of other Reformed resources in your digital library. Perform powerful searches to find exactly what you're looking for. Take the discussion with you using tablet and mobile apps. With Logos Bible Software, the most efficient and comprehensive research tools are in one place, so you get the most out of your study.
Key Features
Compiles 9 works by Particular Baptist preacher Benjamin Keach
Provides insight into Baptist history and tradition
Discusses justification, baptism, hermeneutics, spiritual songs, and more
Individual Titles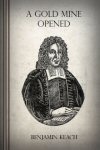 Benjamin Keach examines "the glory of God's rich grace displayed in the mediator to believers and his direful wrath against impenitent sinners" in a collection of sermons on four passages of Scripture, covering various topics.
Contents:
"A Trumpet Blown in Zion, or, an Alarm in God's Holy Mountain" (2 sermons on Matt. 3:12)
"The Blessedness of Christ's Sheep, or No Final Falling from a State of Grace" (16 sermons on John 10:27–28)
"The Trial of the False Professor, or, The Danger of Final Apostasy" (3 sermons on Hebrews 6:4–6)
"The Great Salvation, or, The Salvation of the Gospel Great and Glorious" (15 sermons on Hebrews 2:3)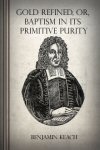 Particular Baptist preacher Benjamin Keach makes a case for believer's baptism, using only full immersion as the biblical mode and expression of baptism. Keach examines the meaning of the word baptism and then unpacks the particulars of baptism, arguing in turn for its place in the Great Commission, for covering the whole body in water, and for baptizing only believing adults. Keach also provides extended examination and response to arguments for infant baptism.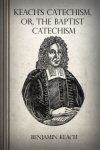 Published in 1693 by British Baptists, this historic catechism was frequently used to catechize congregations and children. Commonly attributed to Benjamin Keach, it is now thought likely compiled by William Collins. A Reformed Baptist catechism, it provides 118 questions and answers from Scripture, used to teach the basics of the faith. It holds to a Calvinistic principles, being similar to the Heidelberg Catechism and the Westminster Catechism, but altered in the sections on baptism.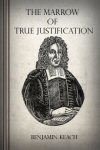 In The Marrow of True Justification Benjamin Keach defends the doctrine of justification by faith alone and not by works, responding to the controversy over this doctrine that was taking place during the end of the Puritan era. This work comprises two sermons on Romans 4:5, "wherein the nature of justification is opened as it hath been formerly asserted by all sound Protestants and the resent present prevailing errors against said doctrine detected."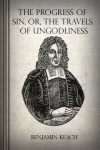 Particular Baptist preacher Benjamin Keach examines destructive the power of sin and the path of disobedience to God in allegorical form. As with his earlier The Travels of True Godliness—in which he presents an allegorical personification of godliness and its enemies—this text presents a personified ungodliness to explore "the great victories he hath obtained, and abominable evils he hath done to mankind by the help of the devil in all his travels from the beginning of the world to this very day."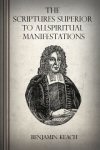 The Scriptures Superior to All Spiritual Manifestations
Author: Benjamin Keach
Publisher: Dodd, Mead and Company
Publication Date: 1856
Pages: 5
In this brief treatise, based from Luke 16:31, Benjamin Keach argues for the authority and power of the Scriptures in bringing people to believe. He "endeavor[s] to prove from these words that the Holy Scriptures, in the ministration thereof, have fare more efficacy to bring men to believe and repent than immediate revelation or apparition from the dead."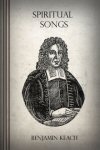 An important pioneer and outspoken advocate of the singing of hymns, as well as a collector of hymns, seventeeth-century Baptist preacher Benjamin Keach here presents songs of praise from the Old and New Testaments, along with "a hundred divine hymns on several occasions, as now practiced in several congregations in and about London."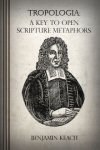 In Tropologia, one of Benjamin Keach's most famous works, he provides a helpful guide to the various figures of speech used in Scripture, noting that the main scope of his work is "to offer some assistance towards the explaining and finding out the true sense and meaning of the Holy Scriptures." First explaining and distinguishing various elements used—such as type, simile, metaphor, synecdoche, hyperbole, and parable—Keach aids readers in identifying these important literary devices, and understanding them in interpretation of the Bible.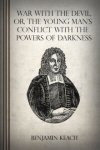 Benjamin Keach creatively explores the maturing believer's battle with sin and corruption through a poetic dialogue between youth and conscience. In the course of this work, he examines the "power of corruption, and the nature of true conversion, in all its various progressive steps."
About Benjamin Keach
Benjamin Keach (1640–1704) was an early Baptist (sometimes called Particular Baptist or Baptist Puritan) preacher, and one of the most well-known and influential ministers of his generation. Born in Buckinghamshire, Keach was trained as a tailor before he began preaching at 18 years old. He was an evangelist in England for 10 years, often persecuted for his Nonconformist views. In 1668 he became pastor of the church in Horselydown, Southwark, where he served for 36 years, and would eventually be the church of Charles Spurgeon. Acting as representative of this church, Keach was part of the 1689 General Assembly, and he signed the 1689 London Baptist Confession of Faith.
Keach was the first among the Baptists to introduce singing hymns in addition to psalms and paraphrases in his church, and became a pioneer of congregational hymn singing. He wrote over 43 works including The Marrow of True Justification and Parables and Metaphors of Scripture.