Spiritual Growth Collection (4 vols.)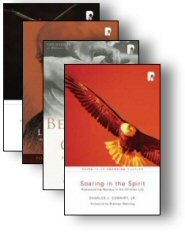 Overview
Explore the nuts and bolts of spiritual formation, discipleship, and vibrant community with the keen insight and timely wisdom found in the 4-volume Spiritual Growth Collection! This collection includes books on spiritual maturity, spiritual theology, and advice for churches which have lost their fire and individuals languishing in their faith. Recover a sense a mystery, explore the role of the Trinity in Christian community, and learn about the nature of Christian discipleship for your church or in your own life with the Spiritual Growth Collection!
With Logos, the tools and resources found in the Spiritual Growth Collection are easier to use and more accessible than ever! Your digital library gives you powerful search capabilities, research tools, and other great features to help you get the most out your research, study, and devotions. Logos gives you everything you need—whether you use these volumes for personal study and growth or to explore the exciting possibilities for your church's future!
Key Features
Contributions from top pastors and scholars on spiritual growth and discipleship
Collection of quotations from Martyn Lloyd Jones
Product Details
Title: Spiritual Growth Collection (4 vols.)
Publisher: Paternoster Press
Volumes: 4
Pages: 800
Individual Titles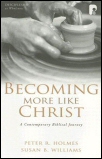 Becoming More Like Christ: A Contemporary Biblical Journey
Author: Peter R. Holmes
Publisher: Paternoster Press
Publication Date: 2007
Pages: 152
None of us are born Christ like, none of us become Christ like at conversion, and none of us become more Christ like by just being in church, or even reading the Bible. We all need to personally change to become more like Jesus.
In contemporary society, change is identified as essential to the journey toward personal maturity. This book suggests that from a biblical perspective, personal positive change is central to a journey of discipleship—wholeness, toward a greater personal Christ like maturity. The book calls for a rethinking of current church practice, where people are normally expected to change at conversion, becoming more like other members, but subsequently are not required to change much at all. The book outlines and introduces the reader to a step by step approach to personal positive change and wholeness, for anyone wishing to begin a journey toward greater Christ likeness.
A concrete and practical approach toward discipleship that helps us to apply Christ's likeness to our lives while avoiding 'clone-making.'
—Mike Gammil, pastor in Houston, Texas
Peter R. Holmes (Ph.D.) is co-founder of Christ Church Deal in Kent and of Rapha. He is a member of the Association of Therapeutic Communities and a management trainer. His previous books include Becoming More Human and Trinity in Human Community.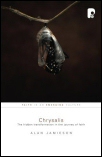 Chrysalis: The Hidden Transformation in the Journey of Faith
Author: Alan Jamieson
Publisher: Paternoster Press
Publication Date: 2008
Pages: 168
Increasing numbers of Christian people find their faith metamorphosing beyond the standard images and forms of Christian faith—questions about where this may lead remain. Is this the death of personal faith or the emergence of something new? Could it be a journey that is Spirit led?
Chrysalis uses the life cycle of butterflies as a metaphor for the faith journey that many contemporary people are experiencing. Drawing on the three principal phases of a butterfly's life and the transformations between these phases, this book suggests subtle similarities with the zones of Christian faith that many encounter. For butterflies and Christians, change between these phases is substantial, life-changing, and irreversible.
This book accompanies ordinary people in the midst of substantive faith change. Chrysalis is primarily pastoral and practical, drawing on the author's experience of accompanying people in the midst of difficult personal faith changes.
This is accessible, spiritual, affirming, clear, positive, and contains some wonderful practical ideas.
—Christianity
Alan Jamieson is a minister at Spreydon Baptist Church in New Zealand, and is the author of A Churchless Faith, Journeying in Faith, and Church Leavers.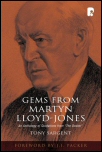 Gems from Martyn Lloyd Jones
Author: Tony Sargent
Publisher: Paternoster Press
Publication Date: 2008
Pages: 256
Martyn Lloyd Jones was among the finest evangelical preachers of the twentieth century. His sermons at London's Westminster Chapel drew large crowds and stirred the hearts and minds of his congregation. He was a man to challenge the passions of the evangelical soul! His published works have sold hundreds of thousands of copies and many of his books remain in print to this day.
Tony Sargent has spent many years studying the works of Martin Lloyd Jones and putting together quotations on a wide range of topics. This anthology of carefully chosen quotations, drawn from across the vast range of Lloyd Jones' sermons, is profitable for preachers, teachers and Christians seeking spiritual wisdom and inspiration. Entries are organized alphabetically by topic to aid quick and easy use.
Tony Sargent is the Principal of International Christian College, Glasgow. He is author of The Sacred Anointing.
Soaring in the Spirit: Rediscovering Mystery in the Christian Life
Author: Charles J. Conniry, Jr.
Publisher: Paternoster Press
Publication Date: 2007
Pages: 224
How can the church recover corporate discernment and thus achieve "spiritual soaring" in the realization of its threefold purpose of worship, discipleship, and witness?
This is a book about Christian spiritual growth. Charles J. Conniry, Jr. observes four key elements of the church's communal practice: preparation (marked by catechesis), conversion (marked by baptism), following (marked by the Eucharist), and Christian soaring (marked by communal discernment). The claim of this book is that ongoing spiritual growth—Christian soaring—is the birthright of every follower of Jesus Christ, and that the church's historic practice of communal discernment is the principal means by which disciples grow.
This is a thoughtful, stirring, and ground-breaking book on the neglected topic of Christian soaring through discerning discipleship.
Conniry's book is a tour de force. It not only blessed me but drew me to pray...It can be read with profit...by anyone who longs to soar in the spirit.
—Brennan Manning, author of The Ragamuffin Gospel
This book is readable, challenging, and encouraging.
—Baptist Times
Charles J. Conniry, Jr. is Associate Professor of Pastoral Ministry and Director of the Doctor of Ministry Program at George Fox Evangelical Seminary, Portland.
More details about these resources