Audiobook Literature Collection (6 vols.)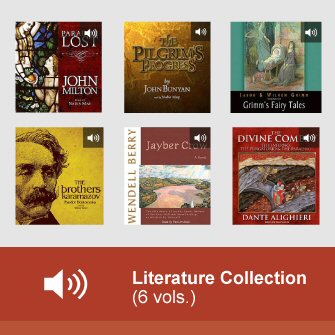 Overview
Immerse yourself in compelling stories of faith and imagination. The Audiobook Literature Collection lets you enjoy hours of fiction, poetry, and novels. Listen to classics by authors like John Milton, Dante Alighieri, and John Bunyan. Discover powerful reflections on faith, morality, and spirituality with works by Wendell Berry and Fyodor Dostoyevsky. Hear classic fairy tales as told by the Brothers Grimm. With the Audiobook Literature Collection, you can listen to some of the most important literature ever written, wherever you go.
Audiobooks add new dimension to your digital library. When you listen in Logos, your audiobooks sync across devices—pause a book anytime on your home computer, then pick up where you left off with the Logos mobile app or on your laptop. Listen on your lunch breaks, as a family, or as part of your personal devotional time. Logos audiobooks enable you to tap into the power of Logos Bible Software in a whole new way.
Key Features
Presents six literary classics
Includes works by John Milton, Dante Alighieri, and Fyodor Dostoyevsky
Features stories about faith and spirituality
Individual Titles

Paradise Lost (audio)
Author: John Milton
Narrator: Nadia May
Edition: Unabridged
Publisher: christianaudio
Runtime: 9.5 hours
Explore the masterwork of seventeenth-century poet, polemicist, and man of letters, John Milton. Paradise Lost is a controversial work that has shaped Western conceptions of angels, demons, Satan, and God. It has been simultaneously venerated and denounced through the centuries. This sweeping epic poem explores the biblical story of the Fall and the origin of evil, including the temptation of Adam and Eve and their expulsion from paradise in the Garden of Eden. Published in 1667, the poem contains over ten thousand lines of blank verse, and helped to establish Milton's reputation as one of the greatest English poets.
John Milton (1608–1674) was a scholarly man of letters, a polemical writer, and an official serving under Oliver Cromwell. He wrote at a time of religious flux and political upheaval in England, and his poetry and prose reflect deep convictions and deal with contemporary issues. Milton's works appear in their entirety in The Harvard Classics, vol. 4: The Complete Poems of John Milton.

The Divine Comedy: The Inferno, The Purgatorio, & The Paradiso (audio)
Author: Dante Alighieri
Translator: Charles Eliot Norton
Narrator: Pam Ward
Edition: Unabridged
Publisher: christianaudio
Runtime: 13 hours
Dante's Divine Comedy is an allegory of mankind's reception of the rewards and punishments of justice. A single listening reveals Dante's visual imagination and uncanny power to make the spiritual visible. Dante's reputation as the outstanding figure of Italian letters rests mainly on the Divine Comedy, a long vernacular poem composed during his exile. It recounts the tale of the poet's journey through hell, purgatory, and heaven, and is divided accordingly into three parts.
A synthesis of the medieval outlook, the Divine Comedy pictures a changeless universe ordered by God. The symbolism is complex yet highly rational, the verse is musical, and the entire work is one of great imagination. Through this masterpiece Dante surpassed all previous Italian writers, and gave rise to a vast literature.
Durante degli Alighieri (c.1265–1321), commonly known as Dante, was a major Italian poet of the Middle Ages. His Divine Comedy, originally called La Grande Commedia and later called Divina by Boccaccio, is considered the greatest literary work composed in the Italian language and a masterpiece of world literature. In Italy he is known as "The Supreme Poet" (il Sommo Poeta) or just il Poeta.

Pilgrim's Progress (audio)
Author: John Bunyan
Narrator: Nadia May
Edition: Unabridged
Publisher: christianaudio/Hovel
Print Publisher: P.F. Collier & Son
Runtime: 10.5 hours
John Bunyan penned the most successful allegory ever written. He lost his first wife and was imprisoned for 12 years for his compelling—but unlicensed—preaching. His preaching about the gravity of sin, salvation by grace, the cost of discipleship, perseverance, and the glory of eternal life lives on in the signs and symbols of The Pilgrim's Progress. Embark on a perilous journey with Christian, the lead character, from the City of Destruction to the luminous safe haven of the Celestial City. The journey will encourage you to "set your hope fully on the grace to be given you" amidst the obstacles of life.
John Bunyan (1628–1688) is one of the most prominent Puritans of all time. Bunyan was well known as a respected preacher during his lifetime and remembered through his writing to this day.
After joining the Bedford Baptist Church of Bedford, England, in 1654, Bunyan began preaching in nearby villages. He was prosecuted under an Elizabethan act against nonconformity and imprisoned for three months which was extended to 12 years. Bunyan became the pastor of St. John's Church the same month as his release from prison.
The author of more than 60 books, Bunyan's Holy War and his autobiographical book Grace Abounding to the Chief of Sinners, gained a prominent and unique place in history.

Grimm's Fairy Tales (audio)
Authors: Wilhelm Grimm and Jakob Grimm
Narrator: Robin Field
Edition: Unabridged
Publisher: Mission Audio
Runtime: 8.3 hours
First published by brothers Wilhelm and Jakob Grimm in 1812 as a collection of retold Germanic folk stories, this collection of such well-known fairytales as Rapunzel and Sleeping Beauty transports listeners to a realm where "Once upon a time" often ends up "happily ever after," and where giants, princesses, kings, and fairies pursue power, find true love, have all sorts of magical adventures—and in the process reveal multifaceted truths about human nature.
Wilhelm Grimm (1786–1859) is the younger of the well-known German folklorists, the Brothers Grimm. He studied law at the University of Marburg in Germany but was best known as an author.
Jakob Grimm (1785–1863) is the older brother of Wilhelm Grimm, and the second half of the German folklore duo known as the Brothers Grimm. He was also a philologist and discovered what is now known as Grimm's Law, though he is best known for his fairy tales.

The Brothers Karamazov (audio)
Author: Fyodor Dostoevsky
Narrator: Simon Vance
Edition: Unabridged
Publisher: christianaudio
Runtime: 19.25 hours
Fyodor Dostoevsky's crowning life work, The Brothers Karamazov, stands among the greatest novels in world literature. It explores the possible role of four brothers in the unresolved murder of their father, Fyodor Karamazov, carefully detailing the personalities and inclinations of the brothers themselves. Together, their psyches represent the full spectrum of human nature, and continuum of faith and doubt. Ultimately this novel seeks to understand the real meaning of existence and includes much beneficial philosophical and spiritual discussion that moves the reader towards faith.
Fyodor Dostoevsky (1821–1881) was a Russian writer of novels, short stories and essays. He is best known for his novels Crime and Punishment and The Idiot. Dostoyevsky's literary works explored human psychology in the troubled political, social, and spiritual context of nineteenth-century Russian society.

Jayber Crow (audio)
Author: Wendell Berry
Narrator: Paul Michael
Edition: Unabridged
Series: Port William
Publisher: christianaudio
Print Publisher: Counterpoint
Runtime: 15 hours
From the simple setting of his barber shop, Jayber Crow—orphan, seminarian, and native of Port William—recalls his life and the life of his community in the middle of the twentieth century. Surrounded by his friends and neighbors, he is both participant and witness as the community attempts to transcend its own decline. Meanwhile Jayber learns the art of devotion and that a faithful love is its own reward.
Wendell Berry (b. 1934) has written more than 30 books, and has proven himself a writer of brilliant moral imagination. Whether he is writing about technology, family life, or small-scale farming, his vision of the human ecology is as important as any in contemporary American letters. Among the many honors he has received are a Guggenheim Fellowship, the Jean Stein Award, the T.S. Eliot Award, a Lannan Foundation Award for nonfiction, the Russel Kirk Paideia Prize, and the 2000 Poets' Prize.
More details about these resources