The Romans Collection (125 vols.)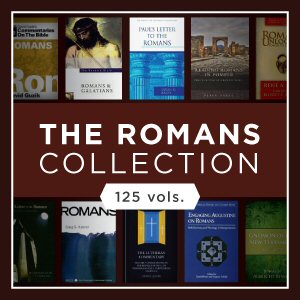 Overview
Get everything you need to take your study of Romans to the next level. The Romans Collection features the renowned commentaries from Pillar, the New American Commentary, the College Press NIV Commentary, the Socio-Rhetorical Commentary, the International Critical Commentary, and many, many more. Including classics by Charles Hodge, John Calvin, Henry Cowles, J.B. Lightfoot, Charles Gore, and Albert Barnes as well as modern commentaries by N.T. Wright, Craig S. Keener, R.C. Sproul, Leon Morris, and Ben Witherington III, this collection goes above and beyond merely commenting on Paul's words—it provides an intense, thorough, and all-encompassing library of the textual history, theological implications, cultural background, contemporary application, and denominational interpretations of each verse of Romans.
With over 90 commentaries in this collection encompassing a wide scope of Christian traditions, this collection will fill your Passage Guide and Sermon Starter Guide to the brim when you search on any verse or chapter of Romans. More than 40 of these volumes were published recently (within the past 40 years), giving you a great deal of modern scholarship.
Using Logos Bible Software, you'll see these volumes throughout your biblical studies. Your Passage and Sermon Starter Guides will overflow with information on Romans—so Logos allows you to sort your volumes into collections based on interpretational perspective, era, or methodology to help focus your research. Break apart the logical flow of Paul's Greek using the English-Greek grammars, dictionaries, and wordbooks in your library—and of course, the interlinear tools give you access to a wealth of word-by-word information. Take all 125 volumes with you on the road—these volumes fit easily onto mobile tablets, phones, and laptops, so you'll never forget your books at home.
Key Features
Over 90 Logos-enriched commentaries on Romans, and over 40,000 pages of commentary
Ben Witherington III, Leon Morris, N.T. Wright, Craig S. Keener, Robert Mounce, R.C. Sproul, John Calvin, Charles Gore, Frédérick Louis Godet—and many, many more!
Dozens of Christian perspectives, biblical commentary, Pauline studies, sermons and lectures
Stand-alone volumes that study Paul's legalistic thought, the socio-historical backdrop to Romans, the history of interpretation of Romans, and more
Product Details
Modern Commentaries
Classic Commentaries
Monographs
Sermons and Lectures