Mobile Ed: CM102 Invitation to Biblical Preaching I: Theological, Historical, and Pragmatic Reasons for Preaching (4 hour course)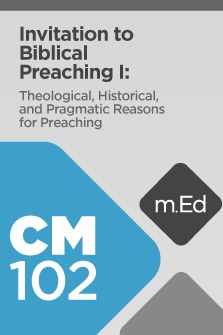 Mobile Ed: CM102 Invitation to Biblical Preaching I: Theological, Historical, and Pragmatic Reasons for Preaching (4 hour course)
•
Runs on Windows, Mac and mobile.
Overview
Preaching is one of the highest callings; it is also one of the most challenging. In this foundational course, Dr. J. Kent Edwards answers the question "Why preach?" He discusses what a biblical sermon looks like, what challenges you'll face, and what you can do to overcome them.
Be prepared to serve through Preaching. Earn a Mobile Ed Certificate of Completion when you invest in your education. Learn more about the Preaching Certificate Program.
Learning Objectives
Upon successful completion you should be able to:
Identify several challenges to biblical preaching
Summarize the theological, historical, pragmatic, and personal reasons for preaching
Describe the marks of a biblical sermon
Discuss the differences between topical preaching and preaching through the Bible
Course Outline
Introduction
Introducing the Speaker and the Course
Unit 1: The Challenge of Preaching
Challenges to Biblical Preaching, Part 1
Challenges to Biblical Preaching, Part 2
Unit 2: Theological Reasons to Preach
God Exists and He Is Not Silent
Finding the "Fear of the Lord" and "Knowledge" with Proximity Searching
The Nature of God's Word
The Value of God's Word, Part 1
The Value of God's Word, Part 2
Using Cross-References to Find Related Passages
The Power of God's Word
Using the Clause Search to Find Where Scripture Was Fulfilled
The Examples in Scripture and a Command
Unit 3: Other Reasons to Preach
Historical Reasons to Preach
Using the Timeline to Find Historical Reasons to Preach
Pragmatic Reasons to Preach
Personal Reasons to Preach
Using the Bible Sense Lexicon to Find Biblical Predatory Animals
Unit 4: Marks of a Biblical Sermon
A Biblical Sermon Begins with Attitude
Researching the Antiochene and Alexandrian Hermeneutical Methods
The Role of the Human Authors
Using Wiki.Logos.com to Build Custom Collections
One Meaning, Many Applications
Introducing the Preaching the Word Commentary Series
True to the Bible in Content
Using Structural Outlines in Logos to Trace a Text's Development
True to the Bible in Development and Purpose
True to the Bible in Form
Using Genre Coding to Identify the Genre of the Text
True to the Bible in Balance of Emphasis and Mood
Unit 5: What to Preach
Two Options for Preaching
Three Reasons for Preaching through Books
Four More Reasons for Preaching through Books
Product Details
Title: CM102 Invitation to Biblical Preaching I: Theological, Historical, and Pragmatic Reasons for Preaching
Instructor: J. Kent Edwards
Publisher: Lexham Press
Publication Date: 2014
Product Type: Logos Mobile Education
Resource Type: Courseware, including transcripts, audio, and video resources
Courses: 1
Video Hours: 4
About J. Kent Edwards
Dr. J. Kent Edwards (MDiv, DMin, PhD) is the tenured professor of preaching and leadership at Talbot School of Theology, Biola University; the founding pastor of Oasis Community Church in Yorba Linda, California; and the founder and president of CrossTalk Global. Dr. Edwards is known for his passion for preaching, and brings over 30 years of Christian leadership experience, both as a senior pastor and a church planter. He is a popular conference speaker, the founder of The Journal of Christian Ministry, and the author of the award-winning books Effective First-Person Biblical Preaching and Deep Preaching.
Getting the most out of Mobile Ed
Logos Mobile Education is a highly effective cross-platform learning environment that integrates world class teaching with the powerful study tools and theological libraries available in Logos Bible Software. Every course provides links to additional resources and suggested readings that supplement the lecture material at the end of every transcript segment.
This course was produced with screencast videos. These videos provide tutorials showing you how to use Logos Bible Software in ways that are tied directly into the content of the course. We are now producing Activities resources as a replacement for screencast videos. We plan on updating this course to include this additional Activities resource in the future for no extra charge.