Mobile Ed: PD102 Idolatry and the Power of the Cross (2 hour course)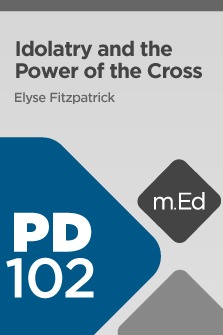 Mobile Ed: PD102 Idolatry and the Power of the Cross (2 hour course)
•
Runs on Windows, Mac and mobile.
Overview
What is idolatry, and how do we identify it? Elyse Fitzpatrick—biblical counselor and author of over 15 books—demonstrates how idolatry can destroy ministries and teaches key steps for leaders to identify idolatry before it takes root. Focusing on God's commands against idolatry in the Old and New Testaments, she illustrates how the worship of idols manifested in the lives of biblical characters. Fitzpatrick also covers how idolatry affects men and women in their unique callings and how Christ empowers us to overcome.
Be prepared to serve through Pastoral Care, Counseling, Discipleship & Spiritual Formation. Earn a Mobile Ed Certificate of Completion when you invest in your education. Learn more about the Certificate Programs.
Learning Objectives
Upon successful completion you should be able to:
Describe the Bible's prohibition of idolatry
Identify biblical characters whose lives exhibit idolatry
Articulate ways in which idolatry affects men and women
Explain how the gospel defeats idols
Discuss what Christians can do to overcome idols
Course Outline
Unit 1: You Shall Have No Other Gods Before Me
Idolatry in the Old Testament
Finding a List of All the Idols in the Bible with a Custom Topic Guide
Idolatry in the New Testament: Hebrews and John
Idolatry in the New Testament: Paul and Jesus
Idolatry and the Westminster Confession of Faith
How to Use Prayer Lists to Help Your Spiritual Growth
Unit 2: All People Are Tempted to Idolatry
Functional Idolatry
Finding Citations of the Heidelberg Catechism with the Cited By Tool
Women and Idolatry
Women in the Bible and Idolatry
Using the Bible Facts Tool to Discover More about Rachel's Life
Women in the Bible and Idolatry, Part 2
Men and Idolatry
Everyday Examples of Idolatry in Our Callings
Quiz Unit 1–2
Unit 3: The Gospel Call: Redeemed
What to Do with Idols
What Is Your Mind Set On?
Finding the Greek behind James 4:1 with a Reverse Interlinear
Jesus Fulfills Our Desires
See What He Has Already Done!
See What He Has Already Done! (Part 2)
Prayer for Help
Quiz - Unit 3
Final Exam
Product Details
Title: PD102 Idolatry and the Power of the Cross
Instructor: Elyse Fitzpatrick
Publisher: Lexham Press
Publication Date: 2014
Product Type: Logos Mobile Education
Resource Type: Courseware, including transcripts, audio, and video resources
Courses: 1
Video Hours: 2
About Elyse Fitzpatrick
Elyse Fitzpatrick has been counseling women since 1989. She is a member of the National Association of Nouthetic Counseling, a retreat and conference speaker, and is the head of Women Helping Women Ministries. Fitzpatrick has a certificate in biblical counseling from CCEEF in San Diego and an MA in biblical counseling from Trinity Theological Seminary.
She is the author of more than 15 books, including Love to Eat, Hate to Eat. Fitzpatrick has developed an extensive curriculum in biblical counseling and has trained students in both North and South America.
Getting the most out of Mobile Ed
Logos Mobile Education is a highly effective cross-platform learning environment that integrates world class teaching with the powerful study tools and theological libraries available in Logos Bible Software. Every course provides links to additional resources and suggested readings that supplement the lecture material at the end of every transcript segment.
This course was produced with screencast videos. These videos provide tutorials showing you how to use Logos Bible Software in ways that are tied directly into the content of the course. We are now producing Activities resources as a replacement for screencast videos. We plan on updating this course to include this additional Activities resource in the future for no extra charge.
More details about these resources