Ashland Theological Journal (45 vols.) (1968–2013)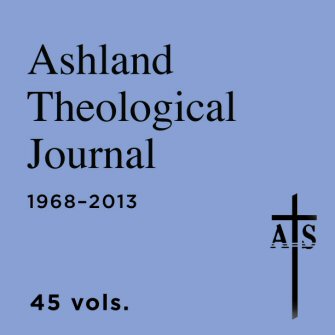 Ashland Theological Journal (45 vols.) (1968–2013)
•
Runs on Windows, Mac and mobile.
Overview
Take an in-depth look at major issues in theology, biblical studies, and church history with the Ashland Theological Journal—a leading Anabaptist academic publication. Scholars present perspectives in the tradition of the Radical Reformation, offering nearly 50 years of scholarship in 46 installments. Add the Ashland Theological Journal to your study of Scripture, theology, and history, and gain the work of top scholars, including David A. deSilva, Nijay K. Gupta, Russell Morton, and L. Daniel Hawk.
The Logos editions of the Ashland Theological Journal enhance your study with amazing functionality. Fully integrated into your digital library, the Timeline enables you to instantly contextualize the people, places, and ideas discussed in the journal with thousands of other biblical and world events. Perform powerful searches to instantly gather relevant biblical texts and resources together. Free tablet and mobile apps let you take the discussion with you. With Logos Bible Software, the most efficient and comprehensive research tools are in one place, so you get the most out of your study.
Key Features
Provides cutting-edge scholarship in biblical studies, theology, and church history
Presents perspectives from the Anabaptist tradition
Offers insightful commentary on contemporary Christianity
Ashland Theological Journal, Volume 1 (1968)
Ashland Theological Journal, Volume 2 (1969)
Ashland Theological Journal, Volume 3 (1970)
Ashland Theological Journal, Volume 4 (1971)
Ashland Theological Journal, Volume 5 (1972)
Ashland Theological Journal, Volume 6 (1973)
Ashland Theological Journal, Volume 7 (1974)
Ashland Theological Journal, Volume 8 (1975)
Ashland Theological Journal, Volume 9 (1976)
Ashland Theological Journal, Volume 10 (1977)
Ashland Theological Journal, Volume 11 (1978)
Ashland Theological Journal, Volume 12 (1979)
Ashland Theological Journal, Volume 13 (1980)
Ashland Theological Journal, Volume 14 (1981)
Ashland Theological Journal, Volume 15 (1982)
Ashland Theological Journal, Volume 16 (1983)
Ashland Theological Journal, Volume 17 (1984)
Ashland Theological Journal, Volume 18 (1985)
Ashland Theological Journal, Volume 19 (1987)
Ashland Theological Journal, Volume 20 (1988)
Ashland Theological Journal, Volume 21 (1989)
Ashland Theological Journal, Volume 22 (1990)
Ashland Theological Journal, Volume 23 (1991)
Ashland Theological Journal, Volume 24 (1992)
Ashland Theological Journal, Volume 25 (1993)
Ashland Theological Journal, Volume 26 (1994)
Ashland Theological Journal, Volume 27 (1995)
Ashland Theological Journal, Volume 28 (1996)
Ashland Theological Journal, Volume 29 (1997)
Ashland Theological Journal, Volume 30 (1998)
Ashland Theological Journal, Volume 31 (1999)
Ashland Theological Journal, Volume 32 (2000)
Ashland Theological Journal, Volume 33 (2001)
Ashland Theological Journal, Volume 34 (2002)
Ashland Theological Journal, Volume 35 (2003)
Ashland Theological Journal, Volume 36 (2004)
Ashland Theological Journal, Volume 37 (2005)
Ashland Theological Journal, Volume 38 (2006)
Ashland Theological Journal, Volume 39 (2007)
Ashland Theological Journal, Volume 40 (2008)
Ashland Theological Journal, Volume 41 (2009)
Ashland Theological Journal, Volume 42 (2010)
Ashland Theological Journal, Volume 43 (2011)
Ashland Theological Journal, Volume 44 (2012)
Ashland Theological Journal, Volume 45 (2013)
More details about these resources
Show More