Charles Ryrie Collection (19 vols.)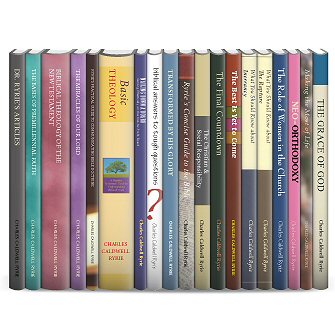 Overview
Renowned writer and theologian Charles C. Ryrie was one of the most respected and prolific Bible scholars of his time, and an influential voice in evangelical Christianity. The Charles Ryrie Collection contains some of Ryrie's works on inerrancy, the rapture, and premillenialism which have profoundly influenced dispensationalist theology for the past half-century. His writings on women in the church, social issues, and ethics have helped evangelicals understand these important issues. Ryrie's warm, clear, and accessible style makes him edifying for general readers, but also useful for scholars, pastors, and students.
In the Logos editions, these valuable volumes are enhanced by amazing functionality. Scripture citations link directly to English translations, and important terms link to dictionaries, encyclopedias, and a wealth of other resources in your digital library. Perform powerful searches to find exactly what you're looking for. Take the discussion with you using tablet and mobile apps. With Logos Bible Software, the most efficient and comprehensive research tools are in one place, so you get the most out of your study.
Key Features
Tackles frequently raised topics of concern among Christians today
Discusses what the Bible teaches about the end times
Offers an introductory guide to the Bible
Explores the teachings of the New Testament
Provides practical illustrations and applications
Individual Titles

From the editor of the popular Ryrie Study Bible comes a systematic approach to Christian theology that will prove edifying to any class of theologian, be they pastor or plumber. In Basic Theology, Ryrie has taken the daunting topic of theology and created an even-handed introduction to and reference for a variety of major theological concerns, giving the reader a sturdy foothold for their faith and a powerful weapon against heresy and unfounded interpretations of God's Word.
There is nothing wrong with being an amateur theologian or a professional theologian. There is everything wrong, however, with being an ignorant or sloppy theologian. As Christians, our thoughts about God need to coincide with what He's said about Himself in the Bible. The phrase "sound doctrine" that Paul used means healthy doctrine (e.g., 2 Timothy 4:3; Titus 1:9). Healthy doctrine or healthy theology is always expected to result in holy living.
Written with a clear understanding of the Scriptures and an unpretentious style, Charles Ryrie's classic Basic Theology is a standard text for many Bible students and pastors. In fact, Ryrie's theology is required reading for a variety of seminary courses. The work's clear, thoughtful language and concise exposition of topics make Basic Theology an easy to understand introduction to systematic theology for the layperson. It also serves as a handy and compact reference for the theologian or scholar.
This edition features 94 chapters arranged in outline style for easy reference. It also includes charts, definitions, scripture and subject indices to guide you to a clear and comprehensive picture of Ryrie's approach to systematic theology. Considerable attention is given to the dispensational view of the end times.
Reading this book will help you begin to think about how God wants to conform you to the image of Christ. Designed with personal application in mind, Basic Theology will provide you with sound theology, which in turn produces holy living.
Ryrie's greatest legacy may well be making the Scriptures he reveres more understandable to lay people.
—Larsen T. Bebbington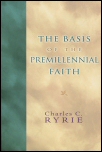 Although premillennialism continues to be popular today, it is by no means a new doctrine. Rather, because of its solid foundation in biblical truth, premillennialism has been a prominent system of interpretation throughout church history.
Dr. Ryrie begins this book by introducing systems of interpretation and their vital importance in studying prophecy. He then proceeds to trace how premillennialism has its basis in history, hermeneutics, the Abrahamic covenant, Davidic covenant, new covenant, ecclesiology, and eschatology.
Whether you are new to premillennialist teaching, or whether you are interested in a more systematic understanding of its basis in Scripture, the contents of this book will clarify, instruct, and inspire.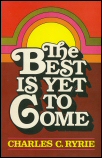 What does the Bible say about the future of the world? How can the unusual events converging in our present day world be explained—wars, rumors of wars, famines, earthquakes, other disasters?
In this book you will find Jesus' forecasts of coming events. You'll discover how the nations of the world will eventually line up.
Will Russia and China pose a united threat to the West?
Will the West ever be a great power bloc again?
What role will the Arab nations play?
Will Israel survive?
Will Communism take over the world?
What role will the church have in world affairs?
Will peace ever reign?
The Bible has the true answers to these questions. Dr. Charles Ryrie explains clearly what the Bible teaches about the end times.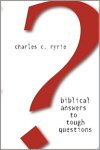 Sooner or later, it will happen. Someone will ask you, "What does the Bible say?" about one of today's explosive issues. And because credible responses are a precious resource in our confused world, you will need to have an answer.
Charles Ryrie is determined that you have those answers. That is why he has tackled the 12 toughest, most frequently raised topics of concern among Christians today. His razor-sharp analysis can become your tool for personal growth and witness. Hot topics include:
Homosexuality
Civil disobedience
Alcohol consumption
Divorce
Suicide
Abortion
Women's rights
Debt
Racism
Evolution
And much more!
Each chapter is direct, easy to follow, and to the point. Ryrie cuts through the fog to expose the key biblical criteria behind each conclusion.
Because the toughest questions deserve your very best answers, read this volume—and know what to say the next time you're on the spot.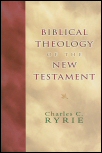 Biblical theology is concerned with the reasons why something was written as well as with the content of what was written. It not only examines the product but also investigates the procedures and presuppositions that went into writing the Scriptures.
The Word of God is seen in the manner in which it is revealed progressively. The whole is traced in the way God gave the Bible part by part. The perspective is that of the historical setting in which the truth came. The theology of the Bible emerges out of the thought of the writers as seen in their writings; it is never superimposed on those writings.
This book will help you learn the teachings of the New Testament and see that theology is part of the very fabric of the Bible. It is simply and clearly written and will be of benefit to all who want to learn more about the teachings of the Bible.

Was our Lord's service social or redemptive? Does Christ not command social service to all men? Should we insist on justice because God is just, or deny our rights because God is longsuffering? How will the believer know which is the proper course of social action at a particular time? Should wealthy persons disperse their possessions? Ryrie addresses these and other pertinent questions in his timely book on the church's social responsibility. He gives insight into how we can be both salt and light in today's world, talks about the personal priorities of Christ while on earth, and talks about our duties or responsibilities to all men as well as our civic responsibilities.
Understanding this book is a must for those who desire to determine the extent of their involvement in today's world. It is informative and challenging.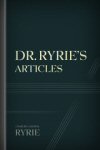 Dr. Ryrie's Articles
Author: Charles C. Ryrie
Publisher: Logos Bible Software
Publication Date: 2010
Pages: 191
During his accomplished career, Charles Ryrie authored dozens of articles in academic journals and popular periodicals. His articles deal with theological topics, biblical texts, contemporary concerns, and other subjects.
This resource includes the following articles:
Credo
Is Your Home Scriptural?
Should a Christian Be Afraid?
The Significance of Pentecost
The Cleansing of the Leper
An Act of Divine Healing
The Necessity of Dispensationalism
The Pauline Doctrine of the Church
A Trilogy of Theology
Especially the Parchments
The Importance of Inerrancy
Apostasy in the Church
Calvinistic Emphases in the Geneva and Bishops' Bibles
The Mystery in Ephesians 3
The Bible and Evolution
The End of the Law
What Is Spirituality?
The Christian and Civil Disobedience
The Doctrine of Capital Punishment
The Church and the Tribulation: A Review
Perspectives on Social Ethics, Part 1: Theological Perspectives on Social Ethics
Perspectives on Social Ethics, Part 2: Old Testament Perspectives on Social Ethics
Perspectives on Social Ethics, Part 3: Christ's Teachings on Social Ethics
Perspectives on Social Ethics, Part 4: Apostolic Perspectives on Social Ethics
Some Important Aspects of Biblical Inerrancy
Modern Galatianism
Satan's Counterfeit
Biblical Teaching on Divorce and Remarriage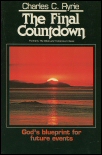 God has the last word about:
Israel and her future
The Church
The Rapture
The Tribulation
The Judgments
Peace on Earth
This is a practical book about Bible prophecy and events that will someday be news headlines. You can profit from the study of this book and learn:
How to have confidence in the face of confusion
How to find comfort in times of sorrow
How to help bewildered people find Christ
How to experience cleansing in your life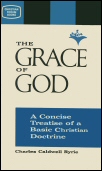 In The Grace of God, the author begins with a word study of the Hebrew and Greek words for "grace" in the Old and New Testament economies. He demonstrates the place of faith in the Old Testament and the relationship of election and grace in the Mosaic Law. He then delineates the particular functions of grace through various sections of Scripture with emphasis on the Pauline concept of law and grace in the New Testament.
The book concludes with an excellent pair of appendices: "What is Legalism?" and "What is Liberty?"
Instructive and inspirational, technical and yet simple.
—Calvary Review
Practical presentation.
—Grace Theological Review
It's not easy for a young person to live the Christian life today. Neither was it in New Testament times. The government was corrupt, sin was rampant and open, homes weren't always godly, and many believers were slaves.
Yet God expects believers, young and old, then and now, to live godly lives. So the New Testament principles must be as workable today as they were then.
Making the Most of Life includes principles to help keep young people on the right track.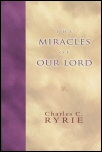 It lies at the heart of our Christian faith—the profound but simple truth that the same power that can turn water into wine can also breathe life into a long-dead corpse.
These are the miracles of Jesus, evidence that he is the Son of God. It's in the Gospel accounts of his ministry that we discover his never-failing mastery over the forces of sickness and sin, nature and Satan, life and death.
The facts about each of the 35 recorded miracles of Jesus—complemented by Charles C. Ryrie's biblical research and personal insights—continue to carry a faith-strengthening message to the Lord's followers today.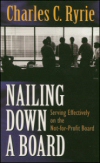 Nailing Down a Board: Serving Effectively on the Not-for-Profit Board
Author: Charles C. Ryrie
Publisher: Kregel
Publication Date: 1999
Pages: 96
Are you on a not-for-profit board? A church board? A business board? Or do you approach the thought of such a responsibility with trepidation? Charles C. Ryrie has served on all sorts of boards, and he has thought much about their great opportunities. He has also noted problems that are common to boards:
Finding good members
Keeping them when they are found
Resolving conflicts
Using meeting times efficiently
Overseeing financial accountability
The practical advice in this book addresses these and other issues for the novice or experienced board members. The principles are applicable to a wide variety of profit and not-for-profit organizations and ministries. Ryrie gives the reasons for having a board and the ingredients for managing them well.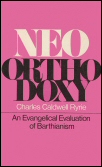 Exactly what is neoorthodoxy, and how does it affect those who subscribe to its strange and often hard-to-understand tenets? Is it merely a question for theological debate, or does it reach the level of the person in the pew? How can it be recognized? Should we be grateful to Barthianism for delivering the church from the curse of the old liberalism? To seek an answer to these and other questions is the purpose of Ryrie's book, Neo-orthodoxy.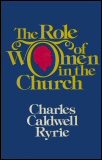 The Role of Women in the Church is a unique book dealing with a subject that has previously received little treatment. It is a useful tool for giving direction to the church for a modern viewpoint of women's spiritual responsibility which is in keeping with the guidelines laid down by the Bible.
The lessons of history and the teaching of the Bible are two main guidelines for understanding the status of women in the church. The Role of Women in the Church is an inquiry into the practices of the past. The introductory section of the position of ancient Greek, Roman, and Jewish women is followed by a three-part discussion dealing with the effect of Jesus on the status of women during the apostolic age, and their position during the second and third centuries. Here is a timely book dealing with a contemporary subject, looking at it through the words of the Bible.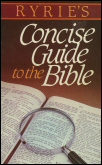 What makes the Bible the same authority for millions of Christians in totally different cultures? How did Christ use the Bible of his day? What about problems in the Old and New Testament? How can we most profitably study the Bible? The answers to these questions, plus an unusual question-and-answer approach to each book of the Bible, makes this book a unique contribution to an understanding of the Bible.
Recognized for his ability to present significant ideas simply and succinctly, Charles Ryrie has combined many years of teaching the Bible and theology as well as a special interest in collecting unique Bible editions, to produce an invaluable introductory guide to the Bible.

Ryrie's Practical Guide to Communicating Bible Doctrine
Author: Charles C. Ryrie
Publisher: Broadman & Holman
Publication Date: 2005
Pages: 94
In this concise and compelling handbook, Ryrie writes to Bible students and practicing pastors alike about the importance of communicating the doctrines of Scripture. He clearly explains why doctrinal truth from the Bible must be a key part of every preacher's message. Using practical illustrations and applications, Ryrie offers helpful ways of embracing doctrine through the use of major Bible passages, systematic theology, biblical theology, concordances, and more.
Transformed by His Glory
Author: Charles C. Ryrie
Publisher: Victor
Publication Date: 1990
Pages: 144
Your concept of God can become worn thin by years of familiarity, hard circumstances, or a society that frowns on his uniqueness or even his existence. But when you lay aside these threadbare images and return your gaze to God's awesome character, you come away not only refreshed but inwardly different. In this book Charles Ryrie turns your thoughts specifically to the glory of God. It's a subject little written about and perhaps even less understood, but in his gifted way of making dry theology everyday practical, Ryrie clearly explains what it is, how it changed the men and women of Scripture, and how it can change you.
If your Christianity hasn't been making a difference lately, perhaps your idea of God has lost its glory. Allow this book to help you reflect anew on his glory now and to encourage you that one day you will see that glory face-to-face. You won't be the same tomorrow.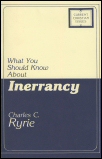 Some say that inerrancy is either unimportant, irrelevant, or unnecessary to the faith.
But that is simply not so, says Dr. Charles Ryrie. Belief about the Bible assumes a place of primary importance in one's doctrinal system. It has to. For if even one part of the Bible is thought to be false, how can any of it be trusted as true?
Through convincing facts and explanations, Dr. Ryrie proves to readers that God did not permit man to divert, misdirect, or erroneously record his message. The Bible, the entire Bible, is inerrant and can be trusted to be totally reliable.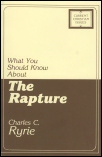 Dr. Ryrie delves into the not-yet-fulfilled prophecies regarding the end of the world, explains what the rapture is, and discusses what exactly will happen on the day Christ returns for his church—a day that may come sooner than we think.
About Charles C. Ryrie
Charles C. Ryrie (1925—2016) was a renowned author, scholar, and key figure in the theology of dispensationalism. He received degrees from Haverford College, Dallas Theological Seminary, University of Edinburgh, and Liberty Baptist Theological Seminary. Ryrie served as professor of systematic theology and dean of doctoral studies at Dallas Theological Seminary and professor at what is now Cairn University. Along with frequently contributing to Bibliotheca Sacra, Ryrie has authored over 25 books.
More details about these resources
Show More