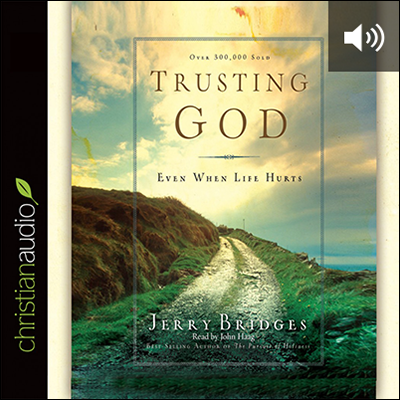 Overview
Why is it easier to obey God than to trust him?
Because obeying God makes sense to us. In most cases his laws appear reasonable and wise, and even when we don't want to obey them, we usually concede that they are good for us.
But the circumstances we find ourselves in often defy explanation. When unexpected situations arise that appear unjust, irrational, or even dreadful, we feel confused and frustrated. And before long we begin to doubt God's concern for us or his control over our lives.
Adversity is hard to endure, and can be even harder to understand. If God were really in control, why would he allow a tragic auto accident or a crucial job loss? How could he permit cancer in a loved one or the death of a child?
Grappling with his concern for us we ask, "Why is God allowing this?" or "What have I done wrong?"
In an effort to strengthen his own trust in God during a time of adversity, Jerry Bridges began a lengthy Bible study on the topic of God's sovereignty. What he learned changed his life, and he now shares the fruit of that study with you in Trusting God.
As you begin to explore the scope of God's power over nations, nature, and the detailed lives of individuals, you'll begin to acknowledge his loving control. And as you come to know him better, you'll find yourself trusting him more completely. Even when life hurts.
Audiobooks add new dimension to your digital library. When you listen in Logos, your audiobooks sync across devices—pause a book anytime on your home computer, then pick up where you left off in your car or on your laptop. Listen on your lunch breaks, as a family, or as part of your personal devotional time. Tap into the power of Logos Bible Software in a whole new way.
Key Features
Examines the difficulties of trusting God
Discusses how to trust in him even in times of trouble
Answers questions about adversity and God's sovereignty
Contents of Print Edition
Can You Trust God?
Is God in Control?
The Sovereignty of God
God's Sovereignty over People
God's Rule over the Nations
God's Power over Nature
God's Sovereignty and Our Responsibility
The Wisdom of God
Knowing God's Love
Experiencing God's Love
Trusting God for Who You Are
Growing through Adversity
Choosing to Trust God
Giving Thanks Always
Product Details
Title: Trusting God
Author: Jerry Bridges
Narrator: John Haaq
Edition: Unabridged
Publisher: christianaudio
Length: 9 hours
Resource Type: Audio
Topic: Grief Recovery
About Jerry Bridges
Jerry Bridges (1929–2016) is an evangelical Christian author and speaker. He serves in the Collegiate Mission, and has been on the staff of The Navigators for more than 50 years. Bridges earned an engineering degree from the University of Oklahoma and went on to serve as an officer in the United States Navy during the Korean War before joining the staff of the Navigators.
He is the author of more than a dozen books, including The Pursuit of Holiness, which has sold more than one million copies. His devotional Holiness Day garnered the 2009 ECPA Christian Book Award for the inspiration and gift category, and The Discipline of Grace: God's Role and Our Role in the Pursuit of Holiness received a similar award in 1995 for the Christian living category.
More details about this resource