Pagan Christianity (audio)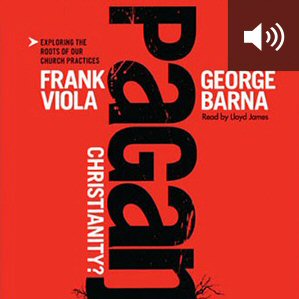 Overview
Have you ever wondered why we Christians do what we do for church every Sunday morning? Why do we "dress up" for church? Why does the pastor preach a sermon each week? Why do we have pews, steeples, choirs, and seminaries? This volume reveals the startling truth: most of what Christians do in present-day churches is not rooted in the New Testament, but in pagan culture and rituals developed long after the death of the apostles. Coauthors Frank Viola and George Barna support their thesis with compelling historical evidence in the first-ever book to document the full story of modern Christian church practices.
Many Christians take for granted that their churches practices are rooted in Scripture. Yet those practices look very different from those of the first-century church. The New Testament is not silent on how the early church freely expressed the reality of Christ's indwelling in ways that rocked the first-century world. Times have changed. Pagan Christianity leads us on a fascinating tour through church history, revealing this startling and unsettling truth: Many cherished church traditions embraced today originated not out of the New Testament, but out of pagan practices. One of the most troubling outcomes has been the effect on average believers: turning them from living expressions of Christ's glory and power to passive observers. If you want to see that trend reversed, turn to Pagan Christianity . . . a book that examines and challenges every aspect of our contemporary church experience.
Key Features
Explores modern church customs and traditions
Examines the pagan rituals that root many modern church practices
Provides historical evidence explaining these origins
Contents of Print Edition
Have We Really Been Doing It by the Book?
The Church Building
The Order of Worship
The Sermon
The Pastor
Sunday Morning Costumes
Ministers of Music
Tithing and Clergy Salaries
Baptism and the Lord's Supper
Christian Education
Reapproaching the New Testament
A Second Glance at the Savior
About the Authors
Frank Viola is a frequent conference speaker and author of numerous books on the deeper Christian life and church restoration, including Jesus Manifesto, coauthored with Leonard Sweet. He is a nationally recognized expert on emerging trends for the church, and he is actively engaged in planting New Testament-style churches.
George Barna was raised and educated on the East Coast before moving to California in the early 1980s. He held executive positions in advertising, public policy, political campaigns, and media/marketing research before beginning his own company, the Barna Research Group (now The Barna Group), in 1984. To date, George Barna has written more than 40 books, predominantly in the areas of leadership, trends, spiritual development, and church health. Included among them are bestsellers such as Revolution, Transforming Children into Spiritual Champions, The Frog in the Kettle, The Power of Vision, and Pagan Christianity?
More details about this resource