No More Excuses: Be the Man God Made You to Be (audio)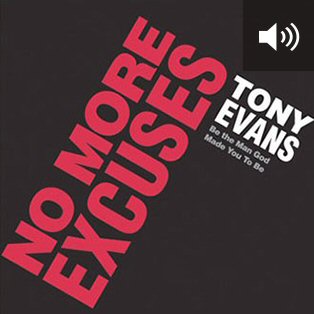 No More Excuses: Be the Man God Made You to Be (audio)
•
Runs on Windows, Mac and mobile.
Overview
Men look up to the guys who can take a hit and keep going. We respect the fighter who picks himself up off the canvas after a knock-out punch and hangs in until the final bell. The quarterback who gets blindsided but doesn't fumble the ball earns our approval. Physical toughness like this is admirable, but it takes more than guts to become the men God made us to be, especially when the struggles we face are personal and close to the heart.
The difficulty of emotional pain and spiritual setbacks is of a much different sort than any physical challenge. Many of us men are not comfortable or well-equipped to grapple with them. Tony Evans gives us the kind of advice and inspiration we need to battle on through the most difficult circumstances.
Drawing from the lives of Moses, David, Joseph, Jonah, and other biblical men who faced the worst–Evans pulls men out of their brokenness and declares, "No more!" No more falling short of being the man God desires you to be for any reason. Evans shows that the struggles faced yesterday and today are the very same tools God is using to make us better men for tomorrow.
Check out the Faithlife Ebooks edition of No More Excuses for a text version!
Key Features
Uses inspiration from Moses, David, and other biblical men
Focuses on helping men become what God made them to be
Discusses how to move past struggles and trust in God's plan
Contents of Print Edition
No More Hiding behind the Past
No More Feeling Worthless
No More Allowing for Immorality
No More Going through the Motions
No More Dabbling in Defiance
No More Compromising Your Integrity
No More Sifting through the Rubble
No More Giving in to Temptation
No More Second-rate Marriages
No More Passive Fathering
No More Sissified Males
No More Playing the Lone Ranger
No More Ownership
No More Clock-punching
No More Business As Usual
No More Half-stepping
No More Standing on the Sidelines
No More "Loser's Limp"
Product Details
Title: No More Excuses: Be the Man God Made You to Be
Author: Tony Evans
Narrator: Tony Evans
Edition: Unabridged
Publisher: Crossway
Print Publisher: Crossway
Runtime: 2.5 hours
Product Type: Audiobook
Resource Type: Topical
Topic: Counseling for Men
About Tony Evans
Tony Evans is Senior Pastor of Cliff Bible Fellowship in Dallas, Texas, president of The Urban Alternative, chaplain for the Dallas Mavericks, and a widely-syndicated radio broadcaster. He graduated from Dallas Theology Seminary, where he was the first African-American to receive a doctorate in theology.
Dr. Evans' Urban Alternative ministry seeks to bring about spiritual renewal in urban America, and his radio broadcast, "The Alternative with Dr. Tony Evans" airs in more than 500 outlets in the United States and over 40 countries.
More details about this resource