Breaking Free: Discover the Victory of Total Surrender (audio)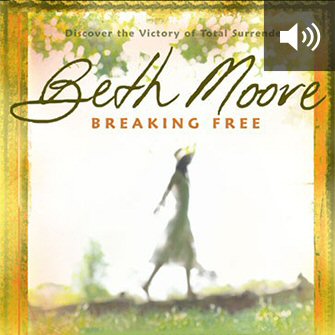 Breaking Free: Discover the Victory of Total Surrender (audio)
•
Runs on Windows, Mac and mobile.
Overview
Do you want to know God and really believe him? Do you want to find satisfaction in God, experience his peace, and enjoy his presence? Do you want to make the freedom Christ promised a reality in your daily life?
In Breaking Free, Beth Moore embarks on a study of selected passages from the book of Isaiah, drawing several parallels between the captive Israelites and today's Christians, in order to show how to make freedom in Christ a daily reality. Moore teaches readers to remove obstacles that hinder freedom by identifying spiritual strongholds in their lives and overcoming them through the truth of God's Word—truth that will set us free.
Check out the Faithlife Ebooks edition of Breaking Free for a text version!
Key Features
Explains how to remove obstacles to spiritual freedom
Discusses how to find freedom and daily satisfaction through Christ
Draws inspiration from the book of Isaiah
Contents of Print Edition
From Captivity to Freedom
Benefits and Obstacles
Ancient Ruins and Broken Hearts
Dreams Surpassed and Obedience that Lasts
Unfailing Love
Freedom and Splendor
About Beth Moore
Beth Moore is a writer and teacher of best-selling books and Bible studies whose public speaking engagements carry her all over the United States. A dedicated wife and mother of two adult daughters, Moore lives in Houston, Texas, where she is president and founder of Living Proof Ministries. Her books include Praying God's Word, Believing God, Breaking Free, When Godly People Do Ungodly Things, A Heart Like His, The Beloved Disciple, among others.
More details about this resource