A Tale of Three Kings (audio)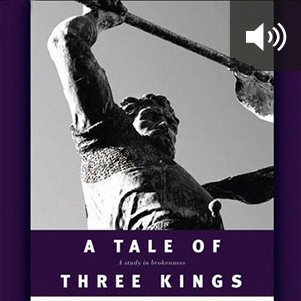 Overview
This modern classic will bring light, clarity, and comfort to the brokenhearted. Many Christians have experienced pain, loss, and heartache at the hands of other believers. To those believers, this compelling story offers comfort, healing and hope. Christian leaders and directors of religious movements throughout the world have recommended this simple, powerful, and beautiful story to their members and staff. You will want to join these other people who have been profoundly touched by this incomparable story. This tale by Gene Edwards is based on the biblical figures of David, Saul, and Absalom.
Key Features
Presents a Bible-based fictionalized account of David
Focuses on the relationships that David had with Saul and Absalom
Explores themes of loss, comfort, and other insights
Product Details
Title: A Tale of Three Kings
Author: Gene Edwards
Narrator: Paul Michael
Edition: Unabridged
Publisher: christianaudio Hovel
Print Publisher: Tyndale
Runtime: 2.25 hours
Product Type: Audiobook
Christian Group: Lutheran
Topic: Grief Recovery
About Gene Edwards
Gene Edwards (1932–) has published over 25 best-selling books, and his signature work, The Divine Romance, has been called a masterpiece of Christian literature. He has written biblical fiction covering nearly the entire Bible, including the following: The Beginning, The Escape, The Triumph, and The Silas Diary.
Gene graduated from East Texas State University at 18 with a bachelor's degree in English history and received his MDiv from Southwestern Baptist Theological Seminary. Gene is part of the house-church movement, and he travels extensively to aid Christians as they begin meeting in homes rather than in church buildings. He also conducts conferences on living the deeper Christian life.
More details about this resource