Baker Academic Biblical Studies Bundle (175 vols.)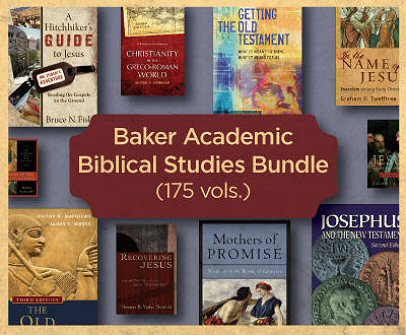 Baker Academic Biblical Studies Bundle (175 vols.)
•
For the most recent version of this bundle, see here.
Overview
Dive into extraordinary academic materials with the massive Baker Academic Biblical Studies Bundle. Build your library with incredible works in Old and New Testament backgrounds and studies, Jesus studies, Pauline studies, the Pentateuch, Bible and theological interpretation, commentaries, and more. We've assembled seminal works from G.K. Beale, Gordon Fee, Craig S. Keener, Thomas Schreiner, Kevin J. Vanhoozer, and several other celebrated theologians and authors.
Whether you're sitting in a seminary classroom or standing in front of it, a preaching pastor or an armchair theologian, engage in serious study with this comprehensive bundle.
In Logos, these texts become open doorways to greater learning. Explore Greek and Hebrew words with a click, and, with mouseover, follow references to the Bible, primary source texts, or other modern works in your library. Take notes on any page, and they automatically sync across devices, showing your notes whether you're on your tablet, smartphone, or computer. Logos makes learning fast, convenient, and fun.
Key Features
Includes extensive background studies on Old and New Testament times and culture
Presents interpretation and exegesis of Scripture
Contains insight into the lives and thought of key biblical figures
Product Details
Title: Baker Academic Biblical Studies Bundle
Publisher: Baker Academic
Volumes: 175
Pages: 65,119