The Holy Bible—KJV: Psalms (audio)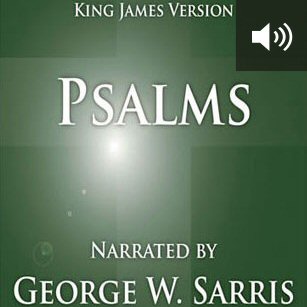 Overview
Enjoy Scripture's timeless truths with the audio edition of the Psalms. Accomplished actor and narrator George Sarris reads from the King James Version, a classic translation that remains one of the most widely read versions of the Bible. Listen over and over again—the power of the Psalms never fades.
Key Features
Provides the songs and poems of Old Testament heroes, prophets, and ceremonies
Encourages the soul with it's beautifully represented imagery of God
Delves into personal relationships with God and our responses to his glory
Product Details
Title: The Holy Bible—KJV: Psalms
Narrator: George W. Sarris
Publisher: George W. Sarris
Runtime: 5.2 hours
Product Type: Audiobook
Resource Type: Bible
Topic: Poetical Books: Psalms
About George W. Sarris
George W. Sarris is an accomplished actor, narrator and spokesman. He served on the Board of the Screen Actors Guild in Boston, and has been a spokesman for radio and television commercials and industrial films for companies such as AT&T, BMW, Burger King, Duracell, Honda, Pizza Hut, Sprint and UPS. Mr. Sarris holds the degrees of Bachelor of Science in Speech from Northwestern University, and Master of Divinity from Gordon-Conwell Theological Seminary. He has been involved in media ministry for over 30 years.
More details about this resource