Spiritual Leadership: Principles of Excellence for Every Believer (audio)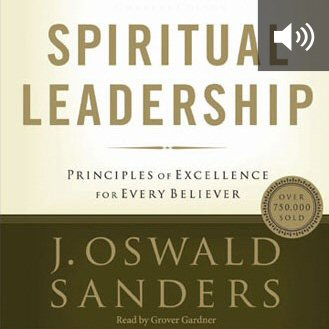 Spiritual Leadership: Principles of Excellence for Every Believer (audio)
•
Runs on Windows, Mac and mobile.
Overview
With more than 500,000 in print, Spiritual Leadership has proven itself a timeless classic in teaching the principles of leadership. J. Oswald Sanders presents and illustrates those principles through biographies of eminent men of God—men such as Moses, Nehemiah, Paul, David Livingstone, and Charles Spurgeon.
Christianity needs a powerful voice in today's world. Such a voice can come only from strong leaders guided by God and devoted to Christ. Spiritual Leadership will encourage you to place your talents and powers at his disposal so you can become a leader used for his glory.
This edition of Spiritual Leadership has been completely revised. The language is updated with a modern flavor and a study guide has been added, designed as a tool to help you grow and successfully apply the principles in this classic book.
Audiobooks add new dimension to your digital library. When you listen in Logos, your audiobooks sync across devices—pause a book anytime on your home computer, then pick up where you left off in your car or on your laptop. Listen on your lunch breaks, as a family, or as part of your personal devotional time. Tap into the power of Logos Bible Software in a whole new way.
Key Features
Emphasizes character, passion, and godliness rather than leadership methods
Grounds itself in Scripture by highlighting phenomenal biblical examples of leadership which should be emulated
Focuses on what Scripture says about leadership, rather than applying worldly principles to the church
Contents of Print Edition
An Honorable Ambition
The Search for Leaders
The Master's Master Principle
Natural and Spiritual Leadership
Can You Become a Leader?
Insights on Leadership from Paul
Insights on Leadership from Peter
Essential Qualities of Leadership
More Essential Qualities of Leadership
Above All Else
Prayer and Leadership
The Leader and Time
The Leader and Reading
Improving Leadership
The Cost of Leadership
The Responsibilities of Leadership
Tests of Leadership
The Art of Delegation
Replacing Leaders
Reproducing Leaders
Perils of Leadership
The Leader Nehemiah
Praise for the Print Edition
J. Oswald Sanders' book Spiritual Leadership came to my hand shortly after it was published and was a great help to me as a young minister. I recommend it highly, not only to pastors and Christian workers, but to all Christians who want to know something about God's leadership in their own lives.
—Warren W. Wiersbe, author, Conference Speake
As a young pastor, J. Oswald Sanders' book Spiritual Leadership was the first book I read that awakened me to the subject of leadership. It started me on a 30-plus year journey of teaching leadership to pastors and laypeople. No other book has influenced my life the way this one has.
—John C. Maxwell, author, speaker and founder, the INJOY Group
Spiritual Leadership by J. Oswald Sanders is a classic among the classics. I read it as a young Christian, later as a leader, and needed what's been taught in this book. I highly recommend it!
—Chip Ingram, president, Walk Thru the Bible
Product Details
Title: Spiritual Leadership: Principles of Excellence for Every Believer
Author: J. Oswald Sanders
Narrator: Grover Gardner
Edition: Revised, Unabridged
Publisher: christianaudio Hovel
Print Publisher: Moody
Runtime: 4.8 hours
Product Type: Audiobook
Christian Group: Evangelicals
Resource Type: Topical
Topic: Leadership
About J. Oswald Sanders
J. Oswald Sanders (1917–1992) was a Christian leader for nearly 70 years and authored more than 40 books on the Christian life including The Incomparable Christ, Spiritual Discipleship, Spiritual Leadership, and Spiritual Maturity. He left a promising law practice in his native New Zealand to serve as an instructor and administrator at the Bible College of New Zealand. Dr. Sanders later became general director of the China Inland Mission (now the Overseas Missionary Fellowship), and was instrumental in beginning many new missions projects throughout East Asia.
More details about this resource