His Needs, Her Needs: Building an Affair-Proof Marriage (audio)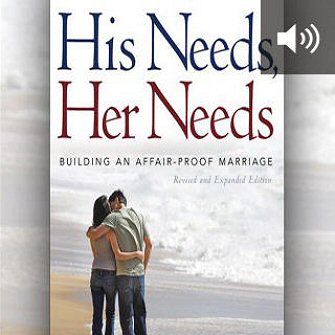 His Needs, Her Needs: Building an Affair-Proof Marriage (audio)
•
Runs on Windows, Mac and mobile.
Overview
How can couples experience a lifetime of passion and fulfilment in marriage? By identifying each other's most important emotional needs and developing habits to meet them. This is the basis for two books from best-selling author Willard Harley.
Now it's easy for couples to learn together from these books! With these tools, spouses will learn about the Love Bank, how to cultivate passion, and how to resolve marital conflict.
Key Features
Addresses the differences between men and women and their needs
Provides practical tools for meeting the needs of your spouse as well as handling conflict
Discusses how to survive infidelity and rebuild a marriage
Contents of Print Edition
How Affair-Proof Is Your Marriage?
Why Your Love Bank Never Closes
The First Thing She Can't Do Without—Affection
The First Thing He Can't Do Without—Sexual Fulfillment
The Second Thing She Can't Do Without—Intimate Conversation
The Second Thing He Can't Do Without—Recreational Companionship
She Needs to Trust Him Totally—Honesty and Openness
He Needs a Good-Looking Wife—Physical Attractiveness
She Needs Enough Money to Live Comfortably—Financial Support
He Needs Peace and Quiet—Domestic Support
She Needs Him to Be a Good Father—Family Commitment
He Needs Her to Be Proud of Him—Admiration
How to Survive an Affair
From Incompatible to Irresistible
About Willard F. Harley Jr.
Willard F. Harley Jr. is a nationally acclaimed clinical psychologist, marriage counselor, and bestselling author. His popular website, www.marriagebuilders.com, offers practical solutions to almost any marital problem. Dr. Harley and his wife, Joyce, host a three-hour live radio call-in show called Marriage Builders Radio and Marriage Builders Weekends across the country.
More details about this resource