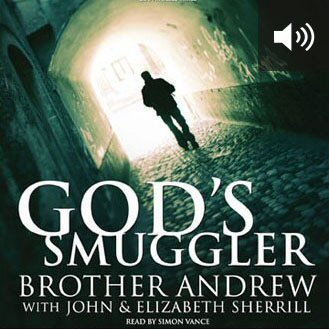 Overview
As a boy he dreamed of being a spy—undercover behind enemy lines. As a man he found himself undercover for God. Brother Andrew was his name, and for decades his life story, recounted in God's Smuggler, has awed and inspired millions. This bestseller tells of the young Dutch factory worker's incredible efforts to transport Bibles across closed borders—and the miraculous ways in which God provided for him every step of the way.
This story is reintroduced in a thirty-fifth anniversary edition with a new foreword and afterword. Brother Andrew's story remains as inspiring today as it was 35 years ago, and with this new release it will motivate a new generation to risk everything to follow God's call.
Key Features
Encourages readers to live boldly for Christ in answer to his call
Recounts the story of Brother Andrew, a Dutch factory worker who smuggled Bibles into Russia
Examines priorities in light of what God has asked of his people
Contents of Print Edition
Smoke and Bread Crusts
The Yellow Straw Hat
The Pebble in the Shell
One Stormy Night
The Step of Yes
The Game of the Royal War
Behind the Iron Curtain
The Cup of Suffering
The Foundations Are Laid
Lanterns in the Dark
The Third Prayer
Counterfeit Church
To the Rim of the Inner Circle
Abraham the Giant Killer
The Greenhouse in the Garden
The Work Begins to Expand
Russia at First Glance
For Russia with Love
Bibles to the Russian Pastors
The Awakening Dragon
Twelve Apostles of Hope
About the Authors
Brother Andrew began his work in 1955 as a one-man mission—visiting, teaching, and taking Bibles to Christians behind the Iron Curtain. That work has since developed into Open Doors International, a nondenominational organization with bases around the world. When not traveling, Brother Andrew makes his home in the Netherlands.
John L. Sherrill has co-authored numerous bestsellers-classics such as The Hiding Place, The Cross and the Switchblade, and has traveled the world researching and writing articles and books. Formerly senior editor and now roving editors for Guideposts, John and Elizabeth co-founded Chosen Books, along with Leonard and Catherine Marshall LeSourd.
Elizabeth Sherrill and her husband, John, continue to travel the world in search of stories that reveal the power of God. They have been associated with Guideposts magazine for many years and were cofounders of Chosen Books, along with Leonard and Catherine Marshall LeSourd.
More details about this resource