Dangerous Calling (audio)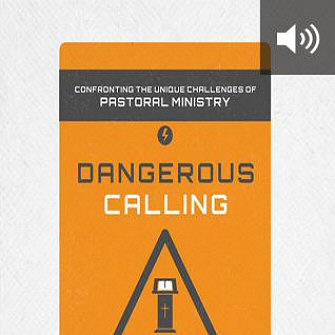 Overview
After traveling the world for many years and speaking at hundreds of churches of all kinds, Paul David Tripp is concerned about the state of pastoral culture. He is not only concerned about the spiritual life of the pastor, but with the very people who train him, call him, relate to him, and restore him if necessary. Dangerous Calling reveals the truth that the culture surrounding our pastors is spiritually unhealthy—an environment that actively undermines the wellbeing and efficacy of our church leaders and thus the entire church body. Here is a book that both diagnoses and offers cures for issues that impact every member and church leader, and gives solid strategies for fighting the war that rages not only in the momentous moments of ministry, but also in the mundane day-by-day life of every pastor.
Audiobooks add new dimension to your digital library. When you listen in Logos, your audiobooks sync across devices—pause a book anytime on your home computer, then pick up where you left off in your car or on your laptop. Listen on your lunch breaks, as a family, or as part of your personal devotional time. Tap into the power of Logos Bible Software in a whole new way.
Key Features
Encourages those in ministry to remain steadfast in Christ in the midst of trial
Addresses the potential snares and pitfalls of pastoral ministry
Discusses how to utilize the gospel and the church to strengthen pastors in crisis
Contents of Print Edition
Part I: Examining Pastoral Culture

Again and Again
Big Theological Brans and Heart Disease
More than Knowledge and Skill
Joints and Ligaments
The Missing Community
War Zones

Part II: TheDanger of Losing Your Awe (Forgetting Who God Is)

Dirty Secrets
Mediocrity
Between the Already and the Not Yet

Part III: The Danger of Arrival (Forgetting Who You Are)

Always Preparing
Separation
So, What Now?
Praise for the Print Edition
This book is 'good' in the same way that heart surgery is good. It's painful and scary and as you read it you'll be tempted to run away from the truth it contains. But it just might save your life. Pastors need this book. I know I really needed it. It challenged me and rebuked me even as it gave me hope and fresh faith in God for pastoral ministry.
—Joshua Harris, senior pastor, Covenant Life Church, Gaithersburg, MD
Dangerous Calling is a dangerous book to read. It is also a book every person in ministry should read. It will cut you to the heart and bring massive conviction if you read it with a humility and ask God to expose sins deeply hidden in your soul. It cuts, but it also provides biblical remedies for healing. I would love to put this book in the hand of every seminarian who walks on my campus.
—Daniel L. Akin, president, Southeastern Baptist Theological Seminary
My friend Paul Tripp shines the spotlight of God's Word into the heart of every pastor in this book, Dangerous Calling. If you have been in ministry for 20 minutes or 20 years, I commend it to you. Approach it prayerfully, passionately, and be prepared for the change God will make in your heart, life, and ministry.
—James MacDonald, senior pastor, Harvest Bible Chapel
About Paul David Tripp
Paul David Tripp is a pastor, author, and international conference speaker. He is the president of Paul Tripp Ministries and works to connect the transforming power of Jesus Christ to everyday life. This vision has led Paul to write 14 books on Christian living and travel around the world preaching and teaching. Paul's driving passion is to help people understand how the gospel of Jesus Christ speaks with practical hope into all the things people face in this broken world.
More details about this resource