Selections from the Fathers of the Church (3 vols.)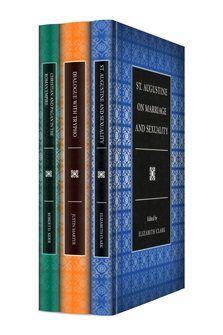 Selections from the Fathers of the Church (3 vols.)
•
Runs on Windows, Mac and mobile.
Your Custom Discount
Reg. Price $49.95
Sale Price $36.95
Your Price $36.95
You Save $13.00 26%
Your Price
What's Pre-Pub?
$36.95
Reg.: $49.95
Print: $62.85
Overview
Throughout history, everywhere the church goes it changes cultures, asking people to trade their worldly hopes for a new hope in the work of Christ. Three of the church's most formidable defenders are brought together in this collection to address three contentious discussions still relevant today: Christianity's claim to sole possession of truth, Christianity and Judaism, and the biblical marriage/sex ethic.
First, In Christian Pagan in the Roman Empire, Robert D. Sider explores the colorful voice of Tertullian and his dealings with the pluralistic religious culture he grew up in. Then, Thomas P. Hallton provides a vibrant new translation of Justin Martyr's Dialogue with Trypho, in which Justin speaks to a Jewish audience, building a case for Jesus as the Messiah of the Old Testament. Finally, Elizabeth Clark examines Augustine—the early church's greatest theologian—and his exposition of a unique Christian sex ethic that neither dismissed sex as a part of a base physical nature, nor made it primary as many pagan religions.
With Logos Bible Software, these valuable volumes are enhanced by cutting-edge research tools. Scripture citations link directly to English translations, and important terms link to dictionaries, encyclopedias, and a wealth of other resources in your digital library. Powerful searches help you find exactly what you're looking for. Tablet and mobile apps let you take the discussion with you. With Logos Bible Software, the most efficient and comprehensive research tools are in one place, so you get the most out of your study.
Key Features
Explores the colorful voice of Tertullian and his defense of Christianity against a pluralistic culture
Provides a new translations of Justin Martyr's Dialogue with Trypho
Examines Augustine's influential Christian doctrines of marriage and sex
Individual Titles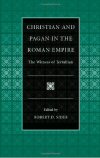 Among the voices that come across the centuries from early Christianity, few speak with sharper accents, or in more highly colored tones, than that of Tertullian. First in the Latin-speaking West to leave a major corpus of writings, Tertullian is also the first in the West to address the issues confronted by Christians in their encounter with the surrounding pagan world.
Tertullian belonged to an era when Roman imperial power was at its height and paganism could proudly claim the blessings of the widespread Roman civilization. Though it was an officially tolerant world, unofficially it was suspicious of the politically incorrect: challenging social structures was an act of unthinkable bravado. Tertullian took on the challenge.
Before his conversion, Tertullian appears to have participated fully in his contemporary pagan culture. A Carthaginian, his education was thoroughly Roman; he was fluent in Latin and Greek, and widely read in literature, philosophy, rhetoric, and medicine. His conversion to Christianity brought to him a radically new vision of the world, while his pagan education provided him with the tools to express that vision with almost unparalleled power. He possessed a logic that penetrated through misty ambiguities to the heart of things; he practiced a formulaic style that sharpened inherent contrasts; and he refined a narrative art that enriched theology with vignettes of the pagan and Christian worlds of his day.
A very helpful anthology of [Tertullian's] works in an inexpensive and accessible format, one which allows modern readers to encounter a difficult and challenging writer by providing both context and annotation. . . . Sider's greatest contribution stems from his experience at reading and understanding Tertullian's rhetoric. He enables the reader to engage Tertullian and understand his argument on its own terms. . . . This volume should serve well as an introduction to Tertullian for upper-level undergraduates or for graduate students new to the world of early Christianity.
—Michael Heintz, Journal of Early Christian Studies
Robert D. Sider is professor emeritus of classical languages at Dickinson College and adjunct professor of history at the University of Saskatchewan. A leading expert on Tertullian, he is the author or editor of many works, including the popular text Ancient Rhetoric and the Art of Tertullian.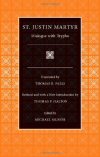 Outside the New Testament, our earliest complete witness to Christian apologetic against the Jews remains the Dialogue with Trypho, written by Justin Martyr, a convert to Christianity from traditional Greek religion. The Dialogue purports to be a two-day dialogue that took place in Asia Minor between Justin and Trypho, a Hellenized Jew. Justin argues extensively on the basis of lengthy Old Testament quotations that Christ is the Messiah and God incarnate, and that the Christian community is the new Israel. In the beginning of the work Justin recounts how he converted to Christianity.
The Dialogue remains of great, and varying, interest. It has important information on the development of Jewish-Christian relations, on the development of the text of the Old Testament, and on the existence and character of the early Jewish Christian community. Justin's story of how he became a Christian is one of our earliest conversion accounts. The Dialogue is an ideal textbook for classes investigating the development of religion in Late Antiquity since it touches on many aspects of religion in the Roman Empire.
Justin Martyr (103–165) was an early Christian apologist. Most of his works are lost, but two apologies and a dialogue survive. He is considered a saint by many Christian denominations including the Roman Catholic Church and the Orthodox Church.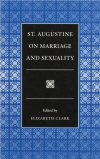 Augustine of Hippo is considered the single most influential theologian in the history of the Church in the West. Among his many contributions, Augustine developed a sexual ethic that became decisive for all later teachings in the Christian West on issues of marriage, reproduction, and sexuality. Some of the most significant and representative passages on marriage and sexuality from his works are presented here. They recount Augustine's own struggle with sexuality, and stress the important role it played in his conversion to Christianity as well as its influence on his theological principles later in life.
The passages in this collection are divided into four chapters which document the chronological development of Augustine's sexual ethic. The first chapter includes passages that pertain to Augustine's own life and illustrate some of his positive and negative models of marital relation. The second chapter recounts Augustine's responses to the Manichean teachings on the body, reproduction, and marriage, mostly from his early years as a Christian. The third chapter contains passages marking Augustine's reaction to the ascetic debates within late fourth-century Latin Christianity. And, finally, the fourth chapter illustrates Augustine's mature sexual and marital ethic, which he elaborated in the midst of—and in reaction to—arguments with Pelagian writers.
Elizabeth Clark is John Carlisle Kilgo Professor of Religion at Duke University. She is a past president of the American Academy of Religion and the North American Patristic Society, and a member of the editorial board of the Fathers of the Church series.