Mobile Ed: PD201 Introducing Spiritual Formation (10 hour course)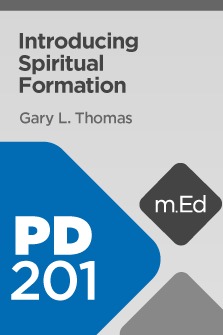 Mobile Ed: PD201 Introducing Spiritual Formation (10 hour course)
•
Runs on Windows, Mac and mobile.
Overview
Dr. Gary Thomas—award-winning author and internationally recognized speaker—provides a panoramic view of spiritual formation so you can better understand what it means to be in relationship with God. Dr. Thomas begins by examining the most significant movements in the history of Christian spirituality, such as the Desert Fathers, the monastics, the Puritans, and the charismatics. He describes the different ways in which we relate to God and how this can help us have an authentic faith. He then shows how we're called to integrate holiness into every part of our lives, including our bodies, marriages, parenting, and spiritual virtues.
Use this course for personal enrichment—to survey the sacred pathways, the practice of holiness in everyday life, and the spiritual virtues—or use this course to help those in your small group and congregation grow in spiritual maturity.
Gary Thomas is one the most sought-after speakers on the topics of marriage, parenting, and spiritual formation, and he's distilled a career's worth of wisdom into this single course, designed for Mobile Ed.
Be prepared to serve through Pastoral Care, Counseling, Discipleship & Spiritual Formation. Earn a Mobile Ed Certificate of Completion when you invest in your education. Learn more about the Certificate Programs.
Learning Objectives
Upon successful completion you should be able to:
Explain the implications of biblical teaching about the personal and relational nature of Christian spirituality
Summarize the role of sacrifice, suffering, trials, and temptation in Christian spirituality
Integrate the Bible's teaching of salvation by grace alone with its teaching about pursuing and perfecting a holy life
Challenge yourself to learn from key spiritual movements and approaches to Christian spirituality
Summarize some key aspects of the role of our bodies in Christian spirituality
Compose a personal biblical response to the idea that God still speaks today
Narrow your focus on mission in the kingdom of God even as you broaden your approach to Christian spirituality
Synthesize a comprehensive set of guidelines for assessing your own Christian spirituality
Course Outline
Unit 1: Spirituality: Historical Survey
God's Desire for Relationship
David's Heart for God
Examining Ahithophel's Relationship to Bathsheba
God's Desire for Relationship with You
Friends of Devotion
Cultivating a Wide Circle of Friends
The Lost Art of Devotional Reading: Things to Remember
Illustrating the Lost Art of Devotional Reading
Ways People Approach Christian Spirituality
Keeping Focus with Organized Prayer Lists
Desert Experience
Eastern Tradition
Monasticism
Contemplative Mysticism
Puritanism
Pentecostal/Charismatic Movement
Unit 1 Quiz
Unit 2: Genuine Spirituality: Focused Diversity
Seeking the Kingdom of God (Matt 6:33)
"Fear Not"
Researching the "Cowardly" with the Bible Word Study
Understanding Differences in Values
Accepting What God Values
Acting Justly
Loving Mercy
Walking Humbly with Our God
A Tailor-Made Spiritual Walk
Relating to God in Different Ways
Freedom and Diversity of New Testament Worship
Naturalists
Intellectuals
Caregivers
Sensates
Ascetics
Activists
Contemplatives
Exploring Eastern Orthodox Spirituality
Traditionalists
Enthusiasts
An Invitation to Personalized Devotion
Spiritual Pathways and Mission
Unit 2 Quiz
Unit 3: Authentic Faith and Holiness
Spirituality from God's Perspective
Authentic Faith
Sacrifice: The Heart of Holiness
Examining the Health and Wealth Gospel
Historical Opinions about Who Is Really Holy
Christians Relating to God through Suffering
God Relating to Christians through Suffering
Suffering: Key to Spiritual Maturity
Suffering: Redemptive or Self-Pitying?
Suffering: Key to Ministry
Accepting the Reality of Sin and Temptation
Longing for Holiness
Pursuing Godliness
Struggling with Sin
Understanding the Absurdity of Sin
Knowing that Sin Separates Us from God
Knowing that Temptation Can Make Us Stronger
Gaining Victory over Temptation by Stages
Breaking Sin's Dominion
Running the Race
Unit 3 Quiz
Midterm Exam
Unit 4: Holiness: God and the Body
Every Body Matters
Responding to the World's View of the Body
Dedicating Our Bodies as Instruments of Service
Using the Bible Sense Lexicon to Find Different Senses of "Body"
Avoiding Gluttony, a "Gateway Sin"
Studying the Seven Deadly Sins
Maintaining Physical Health for Longevity in Service
Maintaining Physical Health for Better Spiritual Health
Adopting Physical Health as a Corporate Value
Having the Mind of Christ
Taking Charge of Our Minds
Having Ears That Hear
Recognizing That God Still Speaks
Listening with an Obedient Heart
Tests for Truth: Scripture
Tests for Truth: God's Church and the Holy Life
Tests for Truth: Familiarity with God's Voice
Unit 4 Quiz
Unit 5: Holiness: Practicing the Spiritual Virtues
Intentional Spiritual Growth
Practicing the Virtues of Christ
Humility: Testimonies from the Christian Classics
Humility: Defining It
Humility: Practicing It
Studying the Meaning of Humility in the Ancient World
Humility: Growing in It
Gentleness: A Christian Virtue
Gentleness: Following the Gentle Shepherd
Gentleness: Showing It to the World
Gentleness: Showing It in Our Homes
Gentleness: Call to Biblical Christianity
Gentleness: Learning It
Thankfulness: A Christian Virtue
Thankfulness: Recognizing Blessings
Thankfulness: Fighting Discontent
Thankfulness: Maintaining Our Human Relationships
Thankfulness: Maintaining Our Relationship with God
Analyzing Thankfulness in the Bible
Fostering Spiritual Disciplines
Using Daily Devotions and Bible Reading Plans
Unit 5 Quiz
Unit 6: Holiness: Marriage and Family
Marriage: Rediscovering Its Purpose
Marriage: A Sanctifying Catalyst
Marriage: Growing in Our Ability to Love
Parenting: A Life-Shaping Call
Parenting: A Catalyst for Spiritual Progress
Unit 6 Quiz
Unit 7: Holiness: Life's Pleasures and Death
Pleasure: Problem or Solution?
Pleasure: A Bulwark against Vulnerability
Pleasure: Beloved Kosmos versus Evil Kosmos
Pleasure: Getting Rid of an Antagonistic View of God
Pleasure: Enjoying God's Good Gifts
Pleasure: A Catalyst for Spiritual Formation
Remembrance of Death versus Unbiblical Denial
Remembrance of Death and Setting Priorities
Remembrance of Death and Living a Holy Life
Remembrance of Death and the Comfort of Death
Unit 7 Quiz
Final Exam
Product Details
Title: PD201 Introducing Spiritual Formation
Instructor: Gary Thomas
Publisher: Lexham Press
Publication Date: 2014
Product Type: Logos Mobile Education
Resource Type: Courseware, including transcripts, audio, and video resources
Courses: 1
Video Hours: 10
About Gary Thomas
Dr. Gary Thomas is a best-selling author and international speaker whose ministry brings people both closer to Christ and closer to others. By God's grace, Dr. Thomas is changing the way Christians look at their faith and family life. He has authored several books, including Sacred Marriage, Sacred Parenting, Sacred Pathways, and the Gold Medallion award–winning Authentic Faith. He is also a writer in residence at Second Baptist Church, Houston, and an adjunct faculty member at Western Seminary in Portland, Oregon.
His books and ministry focus on spiritual formation: how we can integrate Scripture, church history, and the time-tested wisdom of the Christian classics into our modern faith experience. Dr. Thomas' ministry has led him to speak in 49 states and eight different countries, and on numerous national television and radio programs, including Focus on the Family and Family Life Today.
Getting the most out of Mobile Ed
Logos Mobile Education is a highly effective cross-platform learning environment that integrates world class teaching with the powerful study tools and theological libraries available in Logos Bible Software. Every course provides links to additional resources and suggested readings that supplement the lecture material at the end of every transcript segment.
This course was produced with screencast videos. These videos provide tutorials showing you how to use Logos Bible Software in ways that are tied directly into the content of the course. We are now producing Activities resources as a replacement for screencast videos. We plan on updating this course to include this additional Activities resource in the future for no extra charge.
More details about these resources