Joseph Ratzinger / Benedict XVI Collection (48 vols.)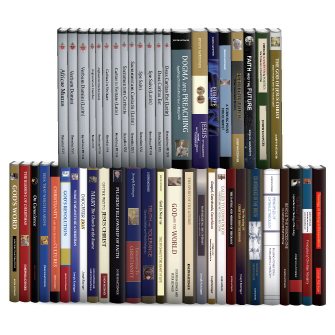 Joseph Ratzinger / Benedict XVI Collection (48 vols.)
•
Runs on Windows, Mac and mobile.
Overview
Study all sides of a significant leader of the Catholic Church with a diverse collection of scholarly works and practical devotional writings. Joseph Aloisius Ratzinger led the Catholic Church as Pope Benedict XVI from April 2005 to February 2013. His papacy was marked by concern for the spiritual future of Europe, and the denial of relativism. But these characteristics were not limited to his papacy—they were consistent throughout his career as priest, professor, bishop, and cardinal. With the Joseph Ratzinger / Benedict XVI Collection (48 vols.), explore his theology as he intertwines history, Scripture, and Catholic principles to provide teachings that outlast the troubling philosophies of the present age.
This collection bundles his writings both before and during his papacy and includes works written alongside such renowned German theologians as Heinz Schürmann and Hans Urs von Balthasar. Ratzinger was prolific and faithful to central Christian teachings—early writings reveal his pastoral care and his heart for Christian unity. His papal writings show his concern for the Catholic Church, its leaders, and the world that watches.
Studying Joseph Ratzinger / Pope Benedict XVI in Logos has never been easier. Scripture citations link directly to English translations, and important terms link to dictionaries, encyclopedias, and a wealth of other resources in your digital library. With Logos Bible Software, the most efficient and comprehensive research tools are in one place, so you get the most out of your study.
Key Features
Discusses Catholic theology, dogma, and practice
Explores Joseph Ratzinger's writing before and after he was elected pope
Analyzes the foundations of Christianity
Provides profound biblical teaching for both Protestants and Catholics
Product Details
Title: Joseph Ratzinger / Benedict XVI Collection
Author: Joseph Ratzinger / Benedict XVI
Publisher: Ignatius Press
Volumes: 48
Pages: 8,128
Christian Group: Catholic
Resource Type: Collected Works
Topic: Theology
Individual Titles
About Joseph Ratzinger
Joseph Ratzinger is one of the most revered Catholic prelates, scholars, theologians, teachers, and authors of our time. He has spoken on many crucial subjects, including sexual consumerism, roles of men and women today, marriage, the priesthood, and the future of the world. As a teenager, he initiated study of classical languages and entered the minor seminary in Traunstein in 1939. Though he was drafted into the German anti-aircraft corps in 1943, he re-entered the seminary in 1945, when World War II ended. On June 29, 1951, Joseph Ratzinger was ordained to the priesthood in the Cathedral of Freising on the Feast of Saints Peter and Paul. He also received his doctorate in theology in 1953 from the University of Munich. Starting in 1959, Ratzinger taught theology at the University of Bonn.
At age 35, Joseph Ratzinger was appointed chief theological advisor for the Archbishop of Cologne, Cardinal Joseph Frings, and maintained that title for four years. After many years of teaching at several German universities, Ratzinger was appointed by Pope Paul VI as Archbishop of Munich and Freising in March 1977, and was elevated to cardinal in June 1977. In November 1981, Ratzinger was summoned by Pope John Paul II to Rome, where he was named Prefect of the Congregation for the Doctrine of the Faith, president of the Pontifical Biblical Commission, and president of the International Theological Commission.
On April 19, 2005, Cardinal Joseph Ratzinger was elected to be the 265th pope. He took the name Benedict XVI, after St. Benedict of Nursia. As pope, he received worldwide respect and was a spiritual influence to Christians and non-Christians alike. In 2013, he resigned the papacy, becoming the first pope to do so in since the fifteenth century. He retired to a monastery in the Vatican Gardens, where he continues to study and write.