Crossway J.I. Packer Collection (10 vols.)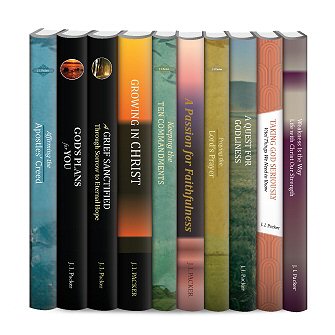 Overview
Revisit the foundations of the Christian faith with one of the foremost evangelical scholars living today. A renowned theologian, J.I. Packer takes readers through a deeper examination of everyday Christian tenets such as the Ten Commandments, the Apostles' Creed, and the Lord's Prayer, and addresses topics like weakness, intentionality, disappointment and more to help you grow in Christ. One of today's most important evangelicals, Packer has greatly influenced the modern church and the field of evangelism. The Crossway J.I. Packer Collection, a compendium of that influence, presents 10 volumes in which Packer offers profound reflection on the Christian life.
Perfect for scholars, students, pastors, and laypeople, the Logos editions of these books are fully searchable. Scripture passages link directly to English translations and original-language texts, and important theological concepts link to dictionaries, encyclopedias, and a wealth of other resources in your digital library. Mobile apps let you bring the conversation with you. With Logos Bible Software, the most comprehensive research tools help you get the most from your study.
Key Features
Provides key works on the Christian life by renowned Bible scholar J.I. Packer
Includes the classic memoir on grief by Richard Baxter
Offers questions and suggested Scripture passages for further study
Addresses contemporary, spiritual issues through a biblical lens
About J.I. Packer
J.I. Packer, is considered one of the most influential evangelicals in North America. Packer committed his life to Christ after hearing lectures from C.S. Lewis at Oxford. In the 1950s, Packer was ordained a deacon and priest in the Church of England. Before moving to Canada, he lectured at several schools, including Tyndale Hall in Bristol, Latimer House at Oxford, and Oak Hill Theological College in London.
Packer is currently a professor of theology at Regent College in Vancouver, British Columbia, and serves as the honorary president of the Latimer Trust. Packer has written and edited numerous books, including Illustrated Manners and Customs of the Bible and Concise Theology. He is also the editor of the English Standard Version of the Bible, the New Bible Dictionary, and New Dictionary of Theology.
More details about these resources