Select Works of Joseph A. Seiss (15 vols.)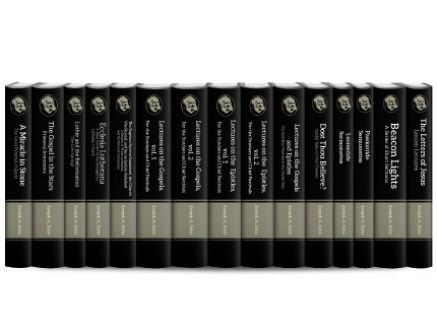 Select Works of Joseph A. Seiss (15 vols.)
•
Runs on Windows, Mac and mobile.
$72.00
Reg.: $199.95
Print: $448.96
* Projected price. Future bids may change this price.
Place Your Bid!
Click on the highest price you'd pay. If the final price is lower, that's what you'll pay.
Overview
Delve into the work of one of the nineteenth century's foremost Lutheran churchmen. The author of more than 100 books, Joseph A. Seiss moved from working his father's Maryland farm, where he was called "Joseph the dreamer," to see six decades of publishing and preaching in the city. Collected here are Seiss' influential works on astronomy, pyramidology, and political history, as well as 281 sermons and lectures from his many years behind the pulpit.
The world changed in monumental ways during Seiss' ministry. Charles Darwin published the Origin of Species, Americans fought the Civil War, and people urbanized and made money at massive rates. But Seiss' work reflects unflinching commitment to an immutable gospel and the tradition of the church in an age of unprecedented change. He frequently addresses the modern challenges Christianity faced with candor and grace. His work is a valuable tool for understanding how the church dealt with the intellectual atmosphere of the nineteenth century.
Logos enhances these volumes with amazing digital functionality, eliminating your research's legwork. Fully indexed texts enable near-instant search results. Scripture citations appear on mouseover in your preferred English translation. Automatically integrated with the rest of your library, Seiss' texts will resonate with an extensive library of Lutheran texts from the period—including work from Christoph Ernst Luthardt, Isaak August Dorner, and Charles Porterfield Krauth—and connect with a wealth of modern reference works. With Logos, the smartest tools and best library are in one place, so you get the most out of your study.
Key Features
Addresses issues pertinent to faith and Christianity in the nineteenth century
Includes Seiss' seminal work in pyramidology
Collects 281 sermons from an influential nineteenth-century Lutheran minister
Product Details
Title: Select Works of Joseph A. Seiss (15 vols.)
Author: Joseph A. Seiss
Volumes: 15
Pages: 6,290
Christian Group: Lutheran
Resource Type: Sermons, Collected Works
About Joseph A. Seiss
Joseph A. Seiss (1823–1904) was a Lutheran theologian and minister. Born to a farming family in Maryland, his studious habits earned him the nickname "dreamer Joseph." He was confirmed into the Moravian church at the age of 16, and studied at Pennsylvania College. He received his preaching license in 1842 and was ordained a Lutheran minister in 1844, and served in churches in Virginia and Maryland, before he was called to Philadelphia, where he spent most of his career as a minister. In addition to being a pastor, he was also a prolific writer and editor. Seiss edited the Prophetic Times and the Lutheran and wrote many books, most famously on pyramidology.