Mobile Ed: TH103 Introducing Bible Doctrine III: Humanity, Sin, and Salvation (9 hour course)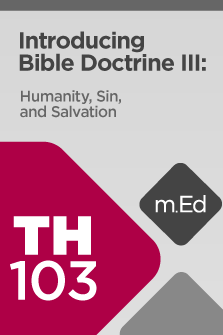 Mobile Ed: TH103 Introducing Bible Doctrine III: Humanity, Sin, and Salvation (9 hour course)
•
Runs on Windows, Mac and mobile.
Overview
In this course, Dr. Carl Sanders and Dr. Ronn Johnson discuss the theological importance of humanity's creation in the image of God, separation from a relationship with God because of sin, biblical concepts of atonement and justification, and the ultimate destiny of believers. Theological approaches to related issues, such as corporate human relationships, gender, race, and the value of work are also considered.
Learning Objectives
Upon successful completion you should be able to:
Be familiar with how theology informs our understanding of humanity and human relationships
Grasp the impact of sin on the relationship between God and humankind
Be able to think theologically about humanity's estranged relationship to God
Understand God's plan for human salvation
Understand the consistency between the OT and NT concepts of salvation
Be familiar with various views of the atonement
Understand God's goal in glorification of those humans who embrace his salvation
Course Outline
Unit 1: Humanity
Introducing the Doctrine of Humanity
The Image of God in Humankind
Studying the "Image of God" with the Sermon Starter Guide
The Awakening of Humankind
Human Connection and Disconnection
Human Freedom
Sin, Salvation, and Glorification
Quiz – Unit 1
Unit 2: Humanity: Individual and Corporate
The Biblical Idea of Corporate Humanity
Using the Bible Facts Tool to Find Connections
Practices of Corporate Humanity
Behaviors of Corporate Humanity
Corporate Humanity and Other Doctrines
Implications of Corporate Humanity
Using the Timeline Tool to Trace Slavery's Effect on the Church
Quiz – Unit 2
Unit 3: Gender: Male and Female
Basic Issues to Thinking Theologically about Gender
Competing Christian Views on Gender
Creation and Gender Roles: Evidence for Hierarchy
The Impact of the Fall on Gender Roles
Jesus and Women
The New Testament Emphasis on Equality
New Testament Indications of Hierarchy
Using the Bible Sense Lexicon to Distinguish Meaning in the New Testament
Other Issues Related to a Theology of Gender
Quiz – Unit 3
Unit 4: Race
Historical Background and Biblical Ambiguity about Race
Racial Reconciliation
Multiracial Churches as a Christian Response
Multicultural Church Models
Quiz – Unit 4
Unit 5: Theology of Work
The Importance of a Theology of Work
Work in the Current Age
Vocation and Theology
Work and Sabbath
Quiz – Unit 5
Midterm Exam
Unit 6: Sin
The Doctrine of Sin
Comparing English Bibles and the Original Hebrew with the Grid View
The Effects of Sin
Are All Sins the Same?
Proximity Searching Using Old Testament Synonyms
Sins of Omission
Is Not Doing One's Best a Sin?
Why Am I Tempted the Way I Am?
Will a Christian Ever Be Judged for Sins?
Quiz – Unit 6
Unit 7: Salvation
An Overview of Salvation
Salvation in the Old Testament
Salvation in the New Testament
The Results of Salvation
What Does a Person Do to Be Saved?
Researching Salvation in Acts with the Bible Word Study Tool
Can Christians Lose Their Salvation?
What Is the Logic behind the Concept of Hell?
Is There Only One Way of Salvation?
Quiz – Unit 7
Unit 8: Atonement
Introducing Atonement Theology
The English Word "Atonement"
The Old Testament Concept of Atonement
Introducing Modern Views of Atonement
Survey of Modern Views of Atonement
Quiz – Unit 8
Unit 9: Justification
Introducing the Doctrine of Justification
Creating a Passage List of Key Verses on Justification
The Doctrine of Justification
The Biblical Story of Justification
Defining Justification in the Context of the Old Testament
Modern Views of Justification
Quiz – Unit 9
Unit 10: Reformed and Wesleyan Traditions
Introducing the Two Traditions
Reformed Theology Versus Wesleyan Arminianism
Quiz – Unit 10
Unit 11: Deification
Introducing the Doctrine of Deification
The Doctrine of Deification
New Testament Hints on Becoming Like God
Searching for the Church Fathers' Positions on "Deification"
The Old Testament Backdrop to the Concept of Deification
Summarizing the Doctrine of Deification
Quiz – Unit 11
Unit 12: Can Unsaved People Please God?
Why Ask This Question?
Defining Our Terms
Illustrating the Issue: King David
Illustrating the Issue: The Parable of the Wheat and Tares
Summarizing the Answer
Using Proximity Searches to Find Resources on Pleasing God
Quiz – Unit 12
Final Exam
Product Details
Title: TH103 Introducing Bible Doctrine III: Humanity, Sin, and Salvation
Instructors: Carl Sanders and Ronn Johnson
Publisher: Lexham Press
Publication Date: 2014
Product Type: Logos Mobile Education
Resource Type: Courseware, including transcripts, audio, and video resources
Courses: 1
Video Hours: 9
About the Instructors
Dr. Carl Sanders is an associate professor of theology at Lancaster Bible College's Capital Bible Seminary. He has taught at college and seminary levels since 1999 at several schools: Bethel University (St. Paul, Minnesota), Northwestern College (St. Paul, Minnesota), and Washington Bible College in Washington, DC, where he also served as chair of the Bible and theology department (2003–2012).
Dr. Sanders is well liked by his students for his down-to-earth presentation of Bible doctrine. Students quickly learn that he enjoys talking about theology and has a quick wit. Among his strengths as a lecturer are his ability to distill information to essential elements, as well as his good-natured way of fairly explaining differences in theological positions. Dr. Sanders has a keen interest in urban ministry and has served for many years in racially diverse urban congregations. His interest in local-church experience helps him practice theology in ways that reflect the diversity present in the body of Christ. He strives to make theology interesting and practical.
Dr. Ronn Johnson, lecturer in biblical studies at the University of Northwestern St. Paul, Minnesota, has been the senior pastor at his church, Coon Rapids Evangelical Free, since 2006. He previously taught in the Bible departments at Pillsbury Baptist Bible College (1991–1994) and The Master's College (1994–1996).
Dr. Johnson is well known by his students for demanding that they think about what they believe instead of being passive listeners. His approach is the opposite of proof-texting—simply quoting Bible verses without consideration of what they might mean in context. His goal is to drive home the point that the Bible is more than a collection of verses to be memorized and thrown into play—it's a message from God that had a clear, coherent purpose that we need to hear without imposing our own traditions on the text. That approach of loyalty to the Bible above all else comes through in his Mobile Ed sessions on Bible doctrine.
He and his wife, Susan, have three teenage children. His pastimes include reading and giving too much attention to Kirby, the family dog.
Getting the most out of Mobile Ed
Logos Mobile Education is a highly effective cross-platform learning environment that integrates world class teaching with the powerful study tools and theological libraries available in Logos Bible Software. Every course provides links to additional resources and suggested readings that supplement the lecture material at the end of every transcript segment.
This course comes with an Activities resource that functions as a type of "workbook" for the course. This resource includes learning activities such as: places for you to respond to reflection questions, exercises that will challenge and show you how deepen your understanding of this course by using specific Logos tools and resources, tutorial videos on different features of Logos Bible Software, and links to relevant Logos guides and tools. A link to open the Activities resource is conveniently placed at the end of every segment.