St. Paul's Epistle to the Ephesians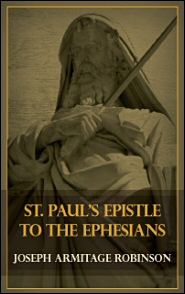 Overview
St. Paul's Epistle to the Ephesians begins with a comprehensive introduction, which includes an outline of the book of Ephesians, along with a summary of Paul's ministry and a brief history of the early Church. With the Logos edition of St. Paul's Epistle to the Ephesians, you can perform powerful searches and access a wealth of other information about Ephesians from dictionaries, encyclopedias, and the rest of the titles in your Libronix Digital Library. Hovering over scripture texts will display the scripture reference from your favorite Bible translation, and you can link St. Paul's Epistle to the Ephesians to the other commentaries in your library for research, analysis, and a fuller understanding of the Bible.
Product Details
Title: St. Paul's Epistle to the Ephesians: A Revised Text and Translation with Exposition and Notes
Author: Joseph Armitage Robinson
Publisher: Macmillan and Co.
Publication Date: 1907
Pages: 314
About Joseph Robinson
Joseph Armitage Robinson was born in 1858 in Somerset. He studied at Christ's College at Cambridge, and was ordained in 1882. He served as Dean of Westminster Abbey from 1902–1911. Robinson died in 1933.
Sample Pages from the Print Edition
More details about these resources