The Watchtower (1879–1890) (138 issues)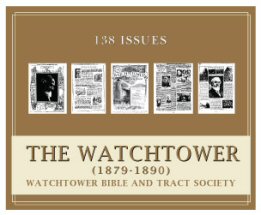 The Watchtower (1879–1890) (138 issues)
•
Runs on Windows, Mac and mobile.
$48.00
* Projected price. Future bids may change this price.
Place Your Bid!
Click on the highest price you'd pay. If the final price is lower, that's what you'll pay.
Overview
Discover the earliest public teachings of the Jehovah's Witnesses. First published in 1879 by Charles Taze Russell under the name Zion's Watch Tower and Herald of Christ's Presence, The Watchtower grew out of the Bible Student Movement, and eventually became the main method of evangelization for Jehovah's Witnesses. The Watchtower is now one of the most widely circulated magazines in the world.
As controversial then as it is now, The Watchtower provides key insights into the development of Jehovah's Witness thought and teaching. With contributions by Russell, J.H. Patton, W.I. Mann, and many others, this collection offers the first 138 issues of The Watchtower in 12 volumes. Articles, poems, reflections—a variety of content points to late-nineteenth-century perspectives on morals and behavior, biblical interpretation, anticipation of the return of Christ, and the beginning of a new age. By opening a window into the early days of the Bible Student Movement, you'll improve your understanding of Jehovah's Witness history and its current doctrine.
With Logos Bible Software, these issues of The Watchtower are enhanced by cutting-edge research tools. Your studies on Jehovah's Witness thought and theology will link to these texts where they're cited, and Scripture citations appear on mouseover in your preferred English translation. Important terms link to dictionaries, encyclopedias, and a wealth of other resources in your digital library. Powerful topical searches help you find exactly what you're looking for. Tablet and mobile apps let you take the discussion with you. With Logos Bible Software, the most efficient and comprehensive research tools are in one place, so you get the most out of your study of comparative religion.
Key Features
Every issue from the first 12 years of The Watchtower's publication
Insights into the beginnings of Jehovah's Witnesses
Perspectives on religious thought and morals after the Second Great Awakening
Product Details
Title: The Watchtower
Publisher: Watchtower Bible and Tract Society
Publication Dates: 1879–1890
Issues: 138
Pages: 5,699
Sample Pages from the First Issue