The Archaeology of Rome (9 vols.)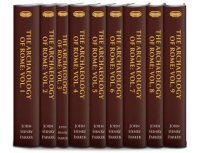 Overview
Explore Rome's history, culture, and greatest architectural achievements, with distinguished British archaeologist John Henry Parker. You'll learn about Rome's great buildings—the Colosseum, the Forum, and the aqueducts—as well as the mysterious catacombs. You'll discover the city's rich religious and artistic history by examining unearthed churches, pagan temples, and other important artifacts. Whether you want to explore above the city or below, Parker will lead you through Rome and demonstrate how it's changed and why it remains one of the world's greatest treasures.
The Logos editions of the multivolume The Archaeology of Rome equips you for better study with cutting-edge functionality and features. Citations link directly to English translations and original-language texts, and important terms link to dictionaries, encyclopedias, and a wealth of other resources in your digital library. The Topic Guide lets you perform powerful searches to instantly gather relevant biblical texts and resources. Tablet and mobile apps let you take the discussion with you. With Logos Bible Software, the most efficient and comprehensive research tools are in one place, so you get the most out of your study.
Key Features
Describes Rome's most famous structures, artwork, artifacts, and tombs
Provides expert commentary on Roman archaeological discoveries from a distinguished expert
Covers the entire history of Rome from its earliest fortifications to the rise of Christianity
Product Details
Title: The Archaeology of Rome
Author: John Henry Parker
Publisher: John Murray
Volumes: 9
Pages: 2,868
About John Henry Parker
John Henry Parker (1806–1884) was an archaeologist, architect, and publisher. He had a deep interest in the history of architecture—he wrote and published many volumes on the subject. He was a chief advocate for the restoration of church buildings, an interest that eventually led him to study the archaeology of Rome. In his study of Rome, Parker commissioned an extensive series of photographs of Rome's greatest buildings and monuments. The photographers also recorded the many excavations in Rome during the nineteenth century. In 1893, Parker's entire collection was destroyed in a catastrophic fire at the Palazzo Della Porta Negroni Caffarelli, depriving later generations of a valuable resource. Parker wrote Glossary of Terms Used in Grecian, Roman, Italian, and Gothic Architecture, A Handbook for Visitors to Oxford, and A Concise Glossary of Architectural Terms.
Though his scholarship was controversial, Parker was decorated by King Victor Emmanuel II of Italy and received a medal from Pope Pius IX. In England, he was named the first keeper of the Ashmolean Museum, and was nominated as a CB (companion) in the Order of the Bath.