Select Works of Charles Taze Russell (12 vols.)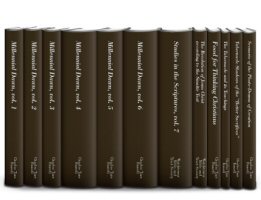 Select Works of Charles Taze Russell (12 vols.)
•
Runs on Windows, Mac and mobile.
$30.00
Reg.: $167.95
Print: $312.35
* Projected price. Future bids may change this price.
Place Your Bid!
Click on the highest price you'd pay. If the final price is lower, that's what you'll pay.
Overview
As America's Second Great Awakening swept through the nineteenth century, it left in its wake a heightened sense of anticipation for the Second Coming of Christ in the new millennium. Stepping onto this fertile soil, Charles Taze Russell founded the Bible Student Movement—out of which eventually grew the Jehovah's Witnesses. Select Works of Charles Taze Russell brings together the foundational writings of this charismatic pastor, opening a window into the beginnings of Jehovah's Witness belief.
This collection includes his earliest publications, later expanded into a seven-volume series known first as Millennial Dawn and then changed to Studies in the Scriptures. Originally intended as a Bible study aid, Millennial Dawn presents Russell's interpretation of Scripture and its relation to God's plan. Also included is the companion volume to Russell's ambitious worldwide film presentation, Photo-Drama of Creation.
With Logos Bible Software, these volumes are enhanced by cutting-edge research tools. Your studies on Jehovah's Witness thought and theology will link to these texts where they're cited, and Scripture citations appear on mouseover in your preferred English translation. Important terms link to dictionaries, encyclopedias, and a wealth of other resources in your digital library. Powerful topical searches help you find exactly what you're looking for. Tablet and mobile apps let you take the discussion with you. With Logos Bible Software, the most efficient and comprehensive research tools are in one place, so you get the most out of your study.
Key Features
Contains all seven volumes of Russell's most prominent work, Millennial Dawn (also known as Studies in the Scriptures)
Offers insight into the philosophy behind the Bible Student Movement
Includes the unique Scenario of the Photo-Drama of Creation, with hundreds of illustrations
Product Details
Title: Select Works of Charles Taze Russell
Author: Charles Taze Russell
Volumes: 12
Pages: 4,434
About Charles Taze Russell
Charles Taze Russell (1852–1916), or "Pastor" Russell, was the original founder of what is now known as the Jehovah's Witnesses. A charismatic speaker and ardent minister, Russell began publishing Zion's Watch Tower and Herald of Christ's Presence (still published today as The Watchtower) in 1879. He cofounded Zion's Watch Tower Tract Society in 1884. He published a widely popular six-volume series, Studies in the Scriptures, from 1886 to 1904, and wrote many other works over his lifetime. His teachings were originally referred to variously as the Bible Student Movement, Russellism, Millennial Dawnism, and later, Rutherfordism. The Bible Student Movement developed from his teachings and ministry, which eventually led to the establishment of the Jehovah's Witnesses under Joseph Franklin Rutherford in the 1930s. A controversial figure who started a controversial movement, Russell had a profound impact on North American church history.