Teaching the Bible Series (12 vols.)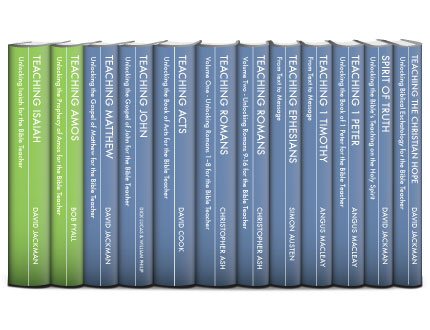 Overview
There are commentaries and there are books on preaching—but very few books that combine elements of both to enable the preacher or Bible teacher to prepare a series on specific sections of Scripture. This series gives the Bible teacher suitable tools to understand the context of biblical books, doctrinal themes, methods of interpretation, key interpretation points, and how to communicate that message clearly. While very useful for preachers, this collection is also aimed at equipping small group study leaders, youth workers, and other Bible teachers. The books are purposefully practical.
With the Logos Bible Software edition, each volume in the Teaching the Bible Series is fully integrated with the other resources in your digital library, including Bibles, maps, dictionaries, and numerous other Bible study tools. All Scripture references link directly to the text of the Bible, making your personal study and teaching preparations more effective and rewarding. You can also explore Scripture on a deeper level with search features, Passage Guides, and the other interactive features in your digital library, making these important books more useful than ever for pastors, teachers, Bible study leaders and anyone who wants to get deeper into the truth of God's Word.
Key Features
Combines commentary-style exegesis with direction on preaching
Assists Bible teachers of all kinds in teaching the Bible effectively
Includes study questions and other tools for teaching
Praise for the Print Edition
The task of moving from the text of Scripture to clear and faithful exposition is challenging. This series of excellent guides aims to help the Bible teacher to observe what is there in the text and prepare to convey its significance to contemporary hearers. In this way, these volumes often do more than the weightier technical commentaries. It is like having the guidance of an experienced coach in the wonderful work of rightly handling the word of truth.
—John Woodhouse, principal, Moore College
Product Details
Title: Teaching the Bible Series
Series: Teaching the Bible
Publisher: Christian Focus
Volumes: 12
Pages: 3,024