Early Studies on Jehovah's Witness Theology (9 vols.)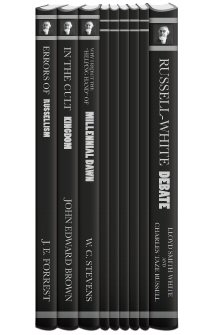 Early Studies on Jehovah's Witness Theology (9 vols.)
•
Runs on Windows, Mac and mobile.
Overview
Riding on the heels of the United States' Second Great Awakening, the Bible Student Movement (the precursor to modern-day Jehovah's Witnesses) seemingly appeared overnight, and grew at an alarming rate. In fact, the Jehovah's Witnesses had their earliest beginnings in the Bible Student Movement. Its charismatic founder, Charles Taze Russell, instantly drew the attention of pastors and church leaders around him, as thousands left traditional churches to attend Russell's. As potent as it was controversial, Russell's teaching both attracted many and disturbed many, sparking debates and prompting publications of books and tracts in response.
This collection comprises works of strong opposition to Russell's teachings by prominent American and Australian ministers in the early twentieth century. Concern over Russell's movement—then known variably as the Bible Student Movement, Russellism, Millennial Dawnism, and later, Rutherfordism—and its rapid growth are evident throughout these 10 volumes. As Russell gained a strong following across the United States, pastors issued warnings of blasphemy and heretical teaching, citing Scripture and historical precedent against Russell's claims, systematically refuting his doctrines.
With Logos Bible Software, these valuable volumes are enhanced by cutting-edge research tools. Scripture citations appear on mouseover in your preferred English translation. Important terms link to dictionaries, encyclopedias, and a wealth of other resources in your digital library. Powerful topical searches help you find exactly what you're looking for. Tablet and mobile apps let you take the discussion with you. With Logos Bible Software, the most efficient and comprehensive research tools are in one place, so you get the most out of your study.
Key Features
Offers a glimpse into early twentieth-century theological debate in America
Unpacks objections to Russell's teachings from a variety of Protestant perspectives
Presents text from both public debate and court cases
Product Details
Title: Early Studies on Jehovah's Witness Theology
Volumes: 9
Pages: 771
About Charles Taze Russell
Charles Taze Russell (1852–1916), or "Pastor" Russell, was the original founder of what is now known as Jehovah's Witnesses. A charismatic speaker and ardent minister, Russell began publishing Zion's Watch Tower and Herald of Christ's Presence (still published today as The Watchtower) in 1879. He cofounded Zion's Watch Tower Tract Society in 1884. He published a widely popular six-volume series, Studies in the Scriptures, from 1886 to 1904, and wrote many other works over his lifetime. His teachings were originally referred to variously as the Bible Student Movement, Russellism, Millennial Dawnism, and later, Rutherfordism. The Bible Student Movement developed from his teachings and ministry, which eventually led to the establishment of the Jehovah's Witnesses under Joseph Franklin Rutherford in the 1930s. A controversial figure who started a controversial movement, Russell had a profound impact on North American church history.