Foundations of Evangelical Theology Series (3 vols.)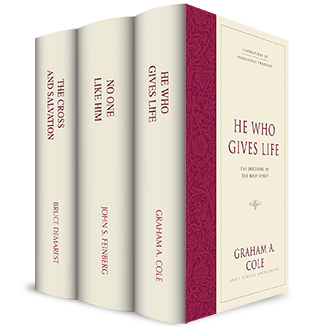 Foundations of Evangelical Theology Series (3 vols.)
•
Runs on Windows, Mac and mobile.
Overview
It is the job of all believers, not just theologians, to serve God by discerning what is true about the crucial issues of life. Our task is to learn more about God. Our privilege is to love God passionately with our minds. Clearly then, spiritual life must have theology as one of its ingredients. The Foundations of Evangelical Theology series includes three volumes designed to support your study of theology and clarify the essential doctrines of your faith.
Each book in this series contains carefully constructed doctrinal statements that you can defend, live out, and communicate to others. In He Who Gives Life, Graham A. Cole describes the person and role of the Holy Spirit. In The Cross and Salvation, Bruce Demarest explains the significance of the cross and the doctrine of salvation. And in No One Like Him, John S. Feinberg explores of the doctrine of God, navigating contemporary perspectives such as process and open theism, and ultimately emphasizing God's immutability. This collection is perfect for clarifying your theology and gaining a deeper understanding of foundational Bible themes.
With Logos Bible Software, these volumes are enhanced with cutting-edge research tools. Scripture citations appear on mouseover in your preferred English translation. Important terms link to dictionaries, encyclopedias, and a wealth of other resources in your digital library. Powerful topical searches help you find exactly what you're looking for. With Logos Bible Software, the most efficient and comprehensive research tools are in one place, so you get the most out of your study.
Key Features
Discusses the power, person, and works of the Holy Spirit
Explores the being, nature, and acts of God
Provides practical applications for Christian living
Product Details
Title: Foundations of Evangelical Theology Series
Publisher: Crossway
Volumes: 3
Pages: 1,743
Individual Titles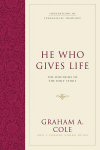 Often the most misunderstood and ignored member of the Trinity, the Holy Spirit deserves our attention and understanding. In He Who Gives Life: The Doctrine of the Holy Spirit, author Graham Cole provides a comprehensive theology of the Holy Spirit. Cole illustrates the ultimate selflessness of the Holy Spirit as the member of the Trinity who always works for the glory of God the Father and God the Son and the good of the saints. A superb theology of the Holy Spirit, this book is ideal for pastors, teachers, and students of theology.
This latest addition to the Foundations of Evangelical Theology series maintains the high standard already set. Graham Cole has written the widest-ranging textbook on pneumatology that currently exists. Meticulous and sharp in handling texts, and scrupulous on matters of method, he offers us cool, clear, and sober answers to more questions about the Holy Spirit than probably any of us have hitherto thought to ask. New ground is not broken, but solid ground of a mainstream Reformed sort is set forth throughout. Well done, Dr. Cole!
—J. I. Packer, board of governors' professor of theology, Regent College
Dr. Graham Cole's superbly written book is a thorough biblical and theological study of the doctrine of the Holy Spirit that may well become a standard work on the subject. The volume is marked by careful exegesis of the scriptural references to the Spirit, each of which is interpreted within the salvation-historical flow of God's redemptive purposes. A convinced Trinitarian theologian, Dr. Cole listens carefully to the contributions made by earlier generations of Christian writers from a range of disciplines, including biblical studies, systematic theology, and historical theology. Authors from both the Eastern and Western traditions are drawn in as pertinent, and challenging questions for our generation are raised. Issues of doctrine, understanding, and experience are drawn together in this fine book as the author guides his readers in appropriate worship of the Triune God, Father, Son, and Spirit.
—Peter T. O'Brien, senior research fellow in New Testament, Moore Theological College
Graham A. Cole is Anglican professor of divinity at the Beeson Divinity School. An ordained Anglican minister, he has served in two parishes and was formerly the principal of Ridley College, University of Melbourne. He has written articles for numerous theological journals and has contributed to several books.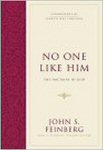 Many contemporary theologians claim that the classical picture of God painted by Augustine and Aquinas is both outmoded and unbiblical. But rather than abandoning the traditional view completely, John Feinberg seeks a reconstructed model—one that reflects the ongoing advances in human understanding of God's revelation while recognizing the unchanging nature of God and his Word. Feinberg begins by exploring the contemporary concepts of God, particularly the openness and process views, and then studies God's being, nature, and acts—all to articulate a mediating understanding of God not just as the King, but the King who cares!
John S. Feinberg
is professor of biblical and systematic theology and chairman of that department at Trinity Evangelical Divinity School. He is the author of several books, including
Ethics for a Brave New World
(with Paul D. Feinberg),
The Many Faces of Evil
, and is general editor of the Foundations of Evangelical Theology series.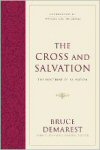 Bruce Demarest has made plain God's glorious plan of salvation, his provision for the human dilemma through Christ's work on the cross, and the application of saving grace to unbelievers. Demarest's unique approach defines each topic, identifies its most pressing issues, examines the ways in which the doctrine has been understood historically, and interprets the Bible's revelation. The result is a clear and carefully constructed doctrinal statement that you can defend, live out, and communicate to others.
With America's confidence in the Bible at an all-time low and the strength of her spiritual convictions waning, it is essential for Christians—especially Christian leaders—to be well-grounded in biblical theology, and to have a clear and comprehensive understanding of the key doctrines of evangelicalism.
This singular, comprehensive treatment of one of Christianity's essential doctrines gives definitive, Bible-based answers about salvation and the cross—and about related theological issues such as grace and regeneration. It's perfect for clarifying your theology and gaining deep understanding of this foundational theme.
A very good book about that most distinctive and vital Christian doctrine: salvation in Christ. . . . I can imagine more than one teacher (myself included) considering the construction of an entire course around this book. . . . Moreover, Demarest's competence in several disciplines means the work would stretch even advanced students into that integration of biblical foundations, theology (including theology in its historical dimensions), and personal/ministry application for which we all surely long.
—Bob Robinson, Biblioteca Sacra
A valuable contribution to the evangelical theological community. Lucid and readable, Demarest's work is an encyclopedic approach to the subject, which results in a good sourcebook on the major options in the hotly contested doctrines of soteriology. Demarest's treatment of such issues as lordship salvation, the nature of repentance, and various views of sanctification indicate his familiarity with the various options. Although no reader will agree with every theological position Demarest adopts, his explanations of views with which he disagrees seem fair. . . . It would make an excellent textbook for seminary or graduate courses in soteriology and a helpful addition to any pastor's library.
—Glenn R. Kreider, Journal of Evangelical Theological Society
Bruce Demarest was educated at Wheaton College and Trinity Evangelical Divinity School. He earned his doctorate in biblical and historical theology at the University of Manchester, where he was mentored by Professor F. F. Bruce. Bruce spent 10 years working with evangelical missions organizations and also has taught at numerous evangelical seminaries throughout the United States, Canada, the Middle East, and Asia. A professor at Denver Seminary, he is the author of 15 books and has written for national publications such as Christianity Today, Foundation, Reflections, and Criswell Theological Review.
More details about these resources