Classic Studies on the Philosophy of Religion (9 vols.)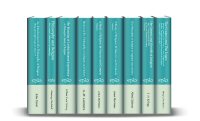 Classic Studies on the Philosophy of Religion (9 vols.)
•
Runs on Windows, Mac and mobile.
$36.00
Reg.: $119.95
Print: $272.35
* Projected price. Future bids may change this price.
Place Your Bid!
Click on the highest price you'd pay. If the final price is lower, that's what you'll pay.
Overview
Classic Studies on the Philosophy of Religion introduces readers to the major issues and questions of the field, including divine causation, revelation, religious experience, religious consciousness, human nature, morality, and more. The collection contains a mix of lectures and monographs, each approaching these questions from different perspectives. They include various philosophical approaches, as well as Reformed, Anglican, and utilitarian theories.
In the Logos editions, these volumes are enhanced by amazing functionality and features. Citations link directly to English translations and original-language texts, and important terms link to dictionaries, encyclopedias, and a wealth of other resources in your digital library. The Topic Guide lets you perform powerful searches to instantly gather relevant biblical texts and resources. Tablet and mobile apps let you take the discussion with you. With Logos Bible Software, the most efficient and comprehensive research tools are in one place, so you get the most out of your study.
Key Features
Addresses the major empirical and spiritual questions in the philosophy of religion
Presents multiple perspectives, including Reformed, Anglican, Utilitarian, and rationalist
Defines terms and frames questions for those new to the philosophy of religion
Individual Titles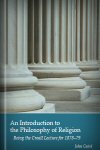 Originally delivered at the University of Edinburgh, this lecture overviews the major questions addressed by the philosophy of religion. These include religious epistemology, religious consciousness, proofs of God's existence, religious morality, and speculative theology.
John Caird (1820–1898) was professor of divinity and principal at the University of Glasgow, and a minister in the Church of Scotland. Known for his eloquence as a speaker, he achieved fame with his sermon Religion in Common Life, which he preached before Queen Victoria. Caird delivered the Gifford Lectures at Glasgow from 1892 to 1896. These were later published as The Fundamental Ideas of Christianity. Caird also wrote an intellectual biography on the Dutch philosopher Benedict Spinoza, titled simply Spinoza.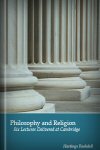 Philosophy and Religion: Six Lectures Delivered at Cambridge
Author: Hastings Rashdall
Publisher: Duckworth and Co.
Publication Date: 1909
Pages: 189
Philosophy and Religion strives to establish a reasonable philosophical basis for discussing religion as a personal attribute. Rashdall Hastings discusses the basic ways religious people can understand and talk about humanity's relationship to God, causation, moral consciousness, and the doctrine of revelation.
Hastings Rashdall (1858–1924) was a fellow at New College, Oxford, and professor at St. David's University and the University of Durham. He was educated at Oxford, and is best known for his theory known as ideal utilitarianism. Rashdall was an Anglican modernist theologian, an ethicist, and a distinguished medieval historian. His works include The Theory of Good and Evil, The Universities of Europe in the Middle Ages, Conscience and Christ: Six Lectures on Christian Ethics, God and Man, and The Idea of Atonement in Christian Theology.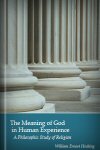 William Hocking's volume begins with the premise that rational explanations of religious phenomena invariably fail to account for human spirituality. The problem, according to Hocking, is that philosophies of religion begin with the presumption that religion is bound to rational categories. To solve the problem, Hocking examines religion from a pragmatic perspective, seeking to understand religious experience in history, emotion, mysticism, and knowledge.
William Ernest Hocking (1873–1966) was a professor at Harvard University and an idealist philosopher. He was educated at Harvard and Göttingen, and was the first American to study under Edmund Husserl. Hocking was influenced by William James, and promoted James' pragmatism in phenomenological categories. His works include Types of Philosophy, Living Religions and a World of Faith, and The Coming World Civilization.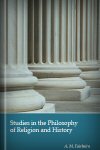 Combining history and philosophy, A. M. Fairbairn's work interprets the development of religion historically, but in philosophical categories. He traces common themes such as immortality, and examines how the beliefs of various religions impact their societies.
A. M. Fairbairn (1838–1912) was principal of Mansfield College, Oxford, and Airedale College, Bradford, England. He was educated at Edinburgh, Berlin, and the Evangelical Union Theological Academy in Glasgow. He received honorary degrees from Spring Hill College, Edinburgh, Yale, and Aberdeen. Fairbairn was a highly regarded speaker, and gave the Gifford lectures at Aberdeen, the Lyman Beecher lecture at Yale, the Haskell lectures in India, and the Muir lectures at Edinburgh. His works include Philosophy of the Christian Religion, Religion in History and in Modern Life, Christ in Modern Theology, and Studies in the Life of Christ.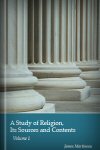 In this volume, James Martinaeu addresses two of most the important topics in philosophy of religion: epistemology and divine causation. Reviewing Kant's doctrines and pressing them forward, Martineau stresses the need for empiricism in the study of religion, and then examines the logic of primary causations and secondary effects.
James Martinaeu (1805–1900) was professor of mental and moral philosophy at Manchester New College. A transcendentalist and Unitarian, he was educated at Manchester College, and actively opposed the British crown's financial support of the Presbyterian Church. Ironically, Martinaeu was a descendant of French Huguenots who fled France for religious protection in England. Revered by contemporaries, Alfred, Lord Tennyson, said Martinaeu was "the master mind of all the remarkable company with whom [I] engaged," and English Prime Minister William Ewart Gladstone called him "the greatest of living thinkers."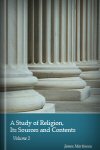 The second volume in James Martinaeu's A Study of Religion presents a speculative exploration of the nature of God from a rationalist perspective. Martinaeu explores the concept of God as "perfection" and then evaluates leading theological systems in relation to rationalist categories.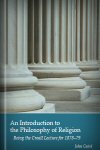 A survey of the philosophy of religion, this volume presents the competing theories of religion proposed in Britain and the United States during the nineteenth century. Alfred Caldecott explains the tenets of major theistic theories, the thinkers who gave rise to them, and how each theory has expanded and changed.
Alfred Caldecott (1850–1936) was professor of logic and mental philosophy at King's College, London, and fellow at St. John's College, Cambridge. He wrote many books, including The Church in the West Indies, English Colonization and Empire, and Aesop's Fables with Instances.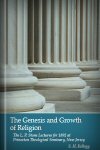 The Genesis and Growth of Religion explores various theories regarding the beginnings of and need for human religion. Arguing that religion is rooted in an innate human "faculty of religion," Kellogg ties the existence of religion to human nature.
Samuel Henry Kellogg (1839–1899) was a Presbyterian missionary to India, and was a leading instigator of the shift from postmillenialism to premillenialism in the United States. He is best known for his translation of the Bible into Hindi, and his Hindi grammar, Hindi Vyakaran.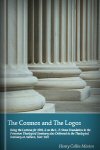 The Cosmos and the Logos: Being the Lectures for 1901–2 on the L. P. Stone Foundation in the Princeton Theological Seminary Also delivered in the Theological Seminary at Auburn, New York
Author: Henry Collin Minton
Publisher: Westminster Press
Publication Date: 1902
Pages: 319
Pursuing a philosophy of religion from a Reformed perspective, Henry Minton argues that an individual's understanding of God directly affects one's understanding of the world. On this premise, Minton proposes the necessity of objective revelation, arguing that human understanding of God is entirely dependent God's revelation. Minton reflects on a host of related philosophical questions, grounding them all in the Reformed doctrines of providence and revelation.
Henry Collin Minton (1855–1924) was the chair of systematic theology at the San Francisco Theological Seminary, and served as a minister in Presbyterian churches across the United States. He was educated at Western Theological Seminary, and he wrote Christianity Supernatural and The Spirit of Japan.
Product Details
Title: Classic Studies on the Philosophy of Religion
Volumes: 9
Pages: 3,263