The Complete Works of Menno Simons (2 vols.)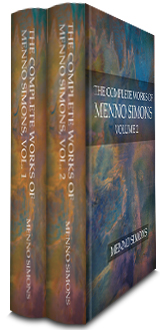 Overview
First ordained as a Roman Catholic priest, Menno Simons later rejected the Catholic Church and joined with the Anabaptists in 1536. For the next 25 years, Menno's writings and sermons on adult baptism, piety, and nonviolence would become so influential, other leaders began referring to the Dutch Anabaptists as Mennonites.
The Complete Works of Menno Simons (2 vols.) is a must-have for those interested in Reformation history. With the Logos edition, all Scripture passages are tagged and appear on mouse-over. What's more, Scripture references are linked to the wealth of language resources in your Logos library, making these texts more powerful and easier to access than ever before for scholarly work or personal Bible study. With the advanced search features of Logos Bible Software, you can perform powerful searches by topic or Scripture reference—finding, for example, every mention of "free will" or "Matthew 5:3."
Key Features
Provides an overview of the life of Menno Simons
Details Simons' fundamental doctrinal views and his conversion from Catholicism
Includes thoughts, meditations, notes, and more on the practices of Church
Outlines Simons' doctrinal beliefs on the Trinity, baptism, and more
Individual Titles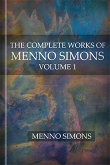 Volume 1 includes:
Renunciation of Popery
Foundation and Plain Instruction
The True Christian Faith
Concerning the New Birth
Cross of Christ
Pleasing Meditation on the Twenty-Fifth Psalm
The Spiritual Resurrection
Excommunication
The Education of Children
Letters Written by Menno Simons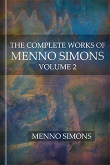 Volume 2 includes:
Reply to Gellius Faber
A Supplication to Christians
Apology
Excommunication
Reply to John A'Laseo
The Triune, Eternal and True God, Father, Son and Holy Ghost
Christian Baptism
Reason Why
A Confession
Reply to Zylis and Lemmekes
Replication
The Incarnation
Reply to Martin Micron
A Very Sincere Epistle to Martin Micron
The True Scriptural David
A Kind Admonition or Instruction from the Word of God
About Menno Simons
Menno Simons (1496–1561) was a Dutch Anabaptist leader from Friesland whose followers became known as the Mennonites. Simons was ordained into the Roman Catholic Church in 1516—even though he had yet to read the Bible. When Simons began questioning his beliefs, he began to study the Bible in earnest, as well as the writings of the Early Church Fathers. He was also influenced by the writings of Martin Luther and Heinrich Bullinger. In 1536, Simons officially rejected the Catholic Church and fell in with a group of Anabaptists after he moved to Witmarsum. A turbulent time in Anabaptist history, Simons rejected the radical strain of Anabaptists, and instead expressed a theology based on peace, piety, and adult baptism. An influential leader and writer, Simons' followers became known as Mennonites.
Product Details
Title: The Complete Works of Menno Simons
Volumes: 2
Publisher: John F. Funk & Brother
Publication Date: 1871
Pages: 743
More details about these resources