Mentor Commentary Series (16 vols.)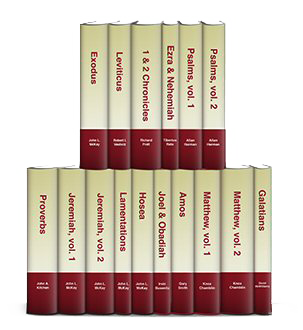 Mentor Commentary Series (16 vols.)
•
Mentor 1998–2012
For the most up to date version of this collection, see here.
Overview
The Mentor Commentary Series (16 vols.) combines a high view of Scripture with access to the latest academic theological research. This unique combination allows the reader to see what recent scholarly research has discovered without losing sight of the inerrancy of Scripture. Uncover the meaning of Scripture, and clarify its relevance for your life today. Grasp the significance of the Bible for our times. And discover the richness of Scripture with detailed commentary, thorough exegesis, and probing questions on literary, interpretive, and contextual issues.
These important commentaries are essential for pastors to use for sermon preparation, and for students and scholars of the Bible interested in literary, exegetical, and interpretive questions. Although they discuss textual, linguistic, and grammatical issues, they do so using English, making them accessible for English-only study. Detailed footnotes, a bibliography, and subject and author indexes make each volume a useful starting point for further research on a particular book of the Bible.
With Logos Bible Software, you can reap the maximum benefit from the Mentor Commentary Series (16 vols.) by getting easier access to the contents of this series—helping you to use these volumes more efficiently for sermon preparation and scholarly research. Every word from every book has been indexed and cataloged to help you search for a particular verse or topic, and giving you instant access to cross-references. With the Logos edition, Scripture references are linked directly to the original language texts, along with your preferred English Bible translations. Along with this, your titles will automatically integrate into custom search reports, passage guides, exegetical guides, and the other advanced features of Logos Bible Software.
Key Features
Discussion of important textual, literary, and philological questions
Introduction to the style, structure, and composition, including authorship
Background studies on the literary traditions
Exegetical and interpretive issues are discussed
Survey of the historical and cultural setting of the book
Product Details
Title: Mentor Commentary Series
Series: Mentor Commentary
Publisher: Mentor
Volumes: 16
Pages: 8,232
Individual Titles
More details about these resources
Show More