New Testament for Everyone Upgrade (2 vols.)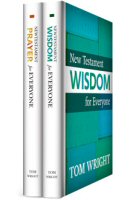 New Testament for Everyone Upgrade (2 vols.)
•
SPCK 2012–2013
Runs on Windows, Mac and mobile.
Overview
The New Testament for Everyone Upgrade supplements N.T. Wright's enormously popular series with two additional volumes, written in the same fresh, engaging, and readable style. In these volumes, Wright covers the essential topics of wisdom and prayer in the New Testament, offering insight from his wealth of study and experience. Wright includes his own compelling translations of the passages he examines, as well as a highly readable discussion and explanations, designing these volumes to be accessible, helpful, and full of practical wisdom for readers today. Each volume also includes discussion questions, ideal for group study or personal devotional study.
The Logos edition of the New Testament for Everyone is designed to encourage and accelerate your study. These fully indexed texts enable near-instant search results for words, people, places, and ideas, while Scripture references appear on mouseover in your preferred translation. The Timeline enables you to instantly contextualize the people, places, and ideas discussed with thousands of other biblical and world events. Perform powerful searches with the topic guide to instantly gather relevant biblical texts and resources together. Find what other authors, scholars, and theologians have to say about prayer, the wisdom of Jesus, and much more. And using Logos' tablet and mobile apps, you can take your study wherever you go. With the most efficient and comprehensive research tools all in one place, you can expand your study with just a few clicks.
Key Features
Provides new volumes in N.T. Wright's popular New Testament for Everyone series
Examines wisdom and prayer in the New Testament
Includes questions for group discussion or personal reflection
Praise for the Print Edition
Wright writes wonderfully, accessibly, and as smooth as fine chocolate.
—Ship of Fools website
Tom Wright is just about the most insightful and incendiary conversation partner for today's preachers.
—William H. Willimon, author, Pastor: The Theology and Practice of Ordained Ministry
No other commentary series comes even close.
—The Christian Century
Individual Titles

New Testament Prayer for Everyone
In New Testament Prayer for Everyone, Tom Wright offers a sampling of his meditations on prayer, drawn from his popular For Everyone series. This volume includes compelling translations of all the major prayers recorded in the New Testament, and offers profound insights into the teaching of Jesus and the apostles on the meaning and practice of prayer, with stimulating questions for personal reflection or group discussion.
This volume makes a great place to deepen your understanding of prayer. As he notes in his discussion of Jesus' teaching in the Sermon on the Mount:
"Prayer is one of life's great mysteries. Most people pray at least sometimes; some people, in many very different religious traditions, pray a great deal. At its lowest, prayer is shouting into a void on the off-chance there may be someone out there listening. At its highest, prayer merges into love, as the presence of God becomes so real that we pass beyond words and into a sense of his reality, generosity, delight, and grace. For most Christians, most of the time, it takes place somewhere in between those two extremes. To be frank, for many people it is not just a mystery but a puzzle. They know they ought to do it but they aren't quite sure how." Wright has designed this volume to be a helpful tool to guide you into fuller understanding of the theology and the practice of prayer. He explores New Testament teaching on prayer, as well as prayers in the New Testament, including those of Jesus, Paul, and Mary.

New Testament Wisdom for Everyone
This volume contains a distillation of Tom Wright's meditations on the wisdom of Jesus and the apostles, drawn from his popular For Everyone series. Wright divides his work into five main sections which discuss the wisdom of the spirit, the transformation of the self, the greatest of the virtues, the path of the disciple, and the renewal of the world. He offers compelling translations of key passages and insightful commentary on New Testament teaching on discipleship and the meaning of Christian love. Wright also includes stimulating questions for personal reflection or group discussion, making this an ideal resource for personal or group study. This helpful devotional resource is for fans of the For Everyone commentaries as well as for anyone who has not yet read them.
About N.T. Wright
Nicholas Tom Wright is a professor of New Testament and early Christianity at St. Andrews University. Previously, he was the bishop of Durham. He has researched, taught, and lectured on the New Testament at McGill, Oxford, and Cambridge Universities. He is best known for his scholarly contributions to the historical study of Jesus and the New Perspective on Paul. His work interacts with the positions of James Dunn, E.P. Sanders, Marcus Borg, and Rowan Williams, the Archbishop of Canterbury. Wright has written and lectured extensively around the world, authoring more than 40 books and numerous articles in scholarly journals and popular periodicals. He is best known for his Christian Origins and the Question of God series, of which four of the anticipated six volumes are finished.
More details about these resources