The Doctrine of Addai, the Apostle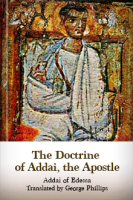 Overview
St. Addai, also called Thaddeus, is believed to be one of the 70 (or 72) apostles sent out by Jesus to the places he intended to visit, as described in Luke 10. The Doctrine of Addai, the Apostle tells the story of how Addai was sent to King Abgar in Edessa. King Abgar, who was afflicted with a disease, had heard of the miracles of Jesus and sent a messenger with a letter asking Jesus to come and heal him. According to this account, Jesus sent a verbal reply back with the messenger, promising that after he had gone to his Father in heaven, he would send one of his disciples to cure him. After Christ had ascended, Judas Thomas chose Addai to go to Edessa. This text goes on to tell of how Addai cured the King, and relates the story of Edessa's conversion to Christianity through Addai's ministry.
Editor and translator George Phillips includes the original Syriac text, and an English translation along with notes. He also speaks to the debate about the authenticity, historicity, and authorship of the text, which has been under scrutiny.
The Logos edition of The Doctrine of Addai, the Apostle enables you to study this text like never before. Network words, phrases, and concepts across a library of classic works, as well as modern texts in history and linguistics. Fully indexed texts enable instant search results across this text and the rest of your digital library. Gain instant perspective with the Timeline, featuring both biblical and world events. Take your study with you on free tablet and mobile apps. With Logos, the most efficient and comprehensive research tools are in one place, so you get the most out of your study.
Key Features
Provides the complete Syriac text with an English translation
Includes a context-establishing preface and helpful notes
Offers an account of Addai the Apostle's mission to Edessa
Product Details
Title: The Doctrine of Addai, the Apostle
Author: Addai of Edessa
Translator: George Phillips
Publisher: Trubner and Company
Publication Date: 1876
Pages: 132
About Addai of Edessa
Addai of Edessa, also called Thaddeus, is believed to be one of the 70 (or 72) apostles sent out by Jesus. He is venerated as a Saint in the Orthodox Church.
About George Phillips
George Phillips was president of Queen's College, Cambridge.
Sample Pages from the Print Edition
More details about these resources