Exploring the Bible Commentary (16 vols.)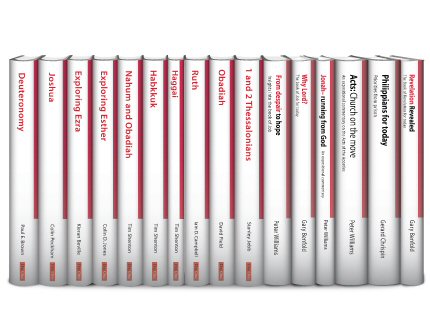 Overview
What is the relevance of the obscure regulations found in Deuteronomy? Why is God silent in the book of Esther? What is God's plan for both Jews and Gentiles? How can I live a Christian life despite today's daily pressures? What is the message of Revelation? Explore the Bible like never before, and discover the answers to these and other important questions. The 16-volume Exploring the Bible Commentary collection offers accessible and easy-to-read commentaries on New and Old Testament books. You'll find verse-by-verse analyses, introductions to biblical history and context, and overviews of important themes and events.
Written by scholars and vetted by pastors, the Exploring the Bible Commentary collection takes an in-depth look at the wilderness journeys of the Israelites, the challenges faced by Esther, the life and ministry of Old Testament prophets, and more. The authors wrestle with hard questions and navigate through difficult issues, with a keen eye toward application and relevance for today. Their accessibility, combined with their comprehensive scope, makes these commentaries perfect for individual or group study. The Exploring the Bible Commentary collection is valuable for readers seeking an introduction to difficult texts and for those looking to expand their knowledge of the Bible.
With Logos Bible Software, these commentaries are enhanced with cutting-edge research tools. Scripture citations appear on mouseover in your preferred English translation. Important terms link to dictionaries, encyclopedias, and a wealth of other resources in your digital library. Powerful topical searches help you find exactly what you're looking for. With Logos Bible Software, the most efficient and comprehensive research tools are in one place, so you get the most out of your study.
Key Features
Features an introduction to the author of each biblical book covered
Provides a chronological history of events
Offers examples and illustrations
Includes guides for further reading and study
Praise for the Print Edition
I continue to be thankful for the publications of Day One. They are biblical; they have sound theology; and they are relative to the issues at hand. The material is condensed and manageable while, at the same time, being complete—challenging balance to find. We are happy in our ministry to make use of these excellent publications.
—John MacArthur, pastor-teacher, Grace Community Church, CA
Product Details
Title: Exploring the Bible Commentary Collection
Series: Exploring the Bible Commentary
Publisher: Day One
Volumes: 16
Pages: 2,949
More details about these resources
Show More