UBS Handbook Series Old Testament & Apocrypha (35 vols.)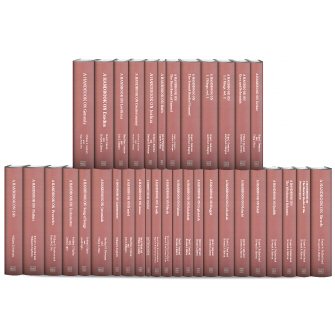 UBS Handbook Series Old Testament & Apocrypha (35 vols.)
•
Runs on Windows, Mac and mobile.
Overview
The UBS Handbooks are detailed commentaries providing valuable exegetical, historical, cultural, and linguistic information on the books of the Bible. They are prepared primarily to assist Bible translators as they carry out the important task of putting God's Word into the many languages spoken in the world today. The text is discussed verse by verse, and is accompanied by running text in at least one modern English translation.
Over the years, church leaders and Bible readers have found the UBS Handbooks to be useful for their own study of the Scriptures. Many of the issues Bible translators must address when trying to communicate the Bible's message to modern readers are the ones Bible students must address when approaching the Bible text as part of their own private study and devotions.
Logos Bible Software dramatically improves the value of any resource by enabling you to find what you are looking for with speed and precision. All Scripture passages are linked directly to the original language texts and English translations, and double-clicking any word automatically opens your lexicons to the relevant entry. As you are reading the UBS Handbooks, you can easily search and access topics or Scripture references you come across, making sermon preparation or Bible study easier than ever. What's more, you can also link the UBS Handbooks to the other commentaries in your library for quick and accurate research for scholarly projects, sermon preparation, and personal study.
Bibles Included: Revised Standard Version and Good News Translation (Today's English Version)
Key Features
Provides Exegetical, historical, cultural, and linguistic information on the original text
Includes verse-by-verse guides
Contains over 20 contributing authors
Offers an essential tool for Bible translators
Roger A. Bullard (PhD, Vanderbilt University) a UBS translation consultant, was a professor of religion at Barton College in Wilson North Carolina. From 1967 to 1979 he served on the Translation Committee for the Good News Translation assisting with the translation of the Old Testament and Deuterocanon. With Howard Hatton he has coauthored Handbooks on Tobit and Judith.
Howard A. Hatton (PhD, University of Pennsylvania) is a retired UBS translation consultant. Beginning in the early 1970s he coordinated translation projects in 29 languages spoken in Southeast Asia and Micronesia. In addition, he has coauthored 12 UBS Handbooks as a linguist.
Product Details
Title: UBS Handbook Series Old Testament & Apocrypha
Publisher: United Bible Societies
Volumes: 35
Pages: 18,700