Baylor Handbook on the New Testament Series (8 vols.)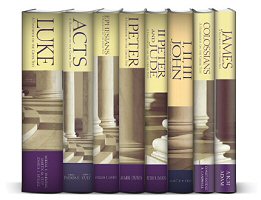 Baylor Handbook on the New Testament Series (8 vols.)
•
Runs on Windows, Mac and mobile.
Overview
What distinguishes the Baylor Handbook on the Greek New Testament Series from similar resources is the detailed and comprehensive attention paid to the Greek text of the New Testament. Each book in this series explains the syntax of the biblical text, offers guidance for deciding between competing semantic analyses, and deals with text-critical questions that have a significant bearing on how the text is understood. Accessible and succinct, these handbooks address questions that are frequently overlooked by standard commentaries, serving as essential reference tools for New Testament study.
This collection is perfect for students, pastors, scholars, or laity seeking a deeper understanding of the Greek biblical text. What's more, with Logos, every word is essentially a link! Scripture references are linked directly to the Bibles in your library—both the original language texts and English translations. Double-clicking any word automatically opens your lexicons to the relevant entry, making words instantly accessible. With Logos, you can quickly move from the table of contents to your desired content and search entire volumes and collections by topic, title, or Scripture reference.
Key Features
Focuses on the Greek text of the New Testament
Addresses text-critical questions
Emphasizes the importance of understanding the grammar, syntax, and linguistic elements of the Greek language
Individual Titles

A. K. M. Adam provides a guide through the Greek text of the Epistle of James. This handbook highlights the linguistic, rhetorical, and stylistic features of James, utilizing the Greek text to lead discussion on many of the theological questions raised by the letter. Adam expertly unveils the letter's excellent use of Hellenistic Greek balanced with noticeable Jewish patterns of thought. Students and teachers will find James a helpful tool in navigating this centuries-old piece of New Testament literature.
. . . a rich and useful companion for students pressing forward toward mastery of the language. Here they will discover a wise selection of comments regarding grammar, word usage, textual criticism, theological interpretation, and more, all delivered with tasteful economy.
—Joseph R. Dongell, professor of biblical studies, Asbury Theological Seminary
Baylor's handbooks are indispensable resources for students wrestling with interpreting the Greek text of the New Testament. This handbook on James adds to that wealth by dissecting the grammar of the homiletic epistle at an intermediate level. Adam's knowledge of Greek and clarity of explanation make this a useful companion to anyone who might wish to deepen their understanding of the language of the epistle of James.
—Margaret Aymer, associate professor of New Testament, The Interdenominational Theological Center
Adam guides readers through the Greek text of James with genuine insight. He refuses to impose judgments regarding the epistle's setting within early Christianity—a choice that renders this work all the more valuable.
—Greg Carey, professor of New Testament, Lancaster Theological Seminary, and author of Sinners: Jesus and His Earliest Followers
A. K. M. Adam is a lecturer in New Testament studies at the University of Glasgow. He is the author of numerous books including Reading Scripture with the Church, Postmodern Interpretations of the Bible and Making Sense of New Testament Theology. Adam's influence spans many topics and audiences as a priest, technologist, blogger, and activist.

In his analysis of the Greek text of 1 Peter, Mark Dubis provides students with an accessible guide through some of the most difficult syntactic challenges of the Greek language. Introducing readers to the most recent developments in grammatical and linguistic scholarship, Dubis includes an overview of Greek word order and the construction of middle voice. In doing so, Dubis helps students internalize the conventions of the Greek language while crafting in students a maturing appetite for future study.
For 40 years we have been in need of an up-to-date analysis of the grammar and syntax of 1 Peter, and Dubis provides just that. Seminary students will rise up and call this book blessed for a generation. In addition, there's a rich and surprising interpretive history that is unfolded in this slim, packed volume.
—Scot McKnight, Karl A. Olsson Professor in Religious Studies, North Park University
This handbook on 1 Peter deserves comparison with the best of the recent commentaries on that epistle. Mark Dubis has provided students with the tools for evaluating and comparing the exegetical commentaries on which they must rely and will keep commentators honest by reminding them, line by line, of the actual wording and structure of the text.
—Ramsey Michaels, professor emeritus of religious studies, Southwest Missouri State University
Mark Dubis is professor of biblical studies, School of Theology and Missions at Union University.

This volume gives teachers and students a comprehensive guide to the grammar and vocabulary of both 2 Peter and Jude. Within the text of these intertwined Catholic Epistles, Peter H. Davids finds rhetorical features and stylistic elements often overlooked. By using this handbook in combination with traditional commentaries, students will be guided toward a greater understanding of the Greek text in 2 Peter and Jude while gaining a deeper appreciation for textual and rhetorical intricacies not available in the English translations.
Davids provides an expert exegetical travel guide for those rediscovering these neglected gems in the canon.
—Gene L. Green, professor of New Testament, Wheaton College and Graduate School
This astute and useful grammatical handbook goes beyond simply parsing forms and labeling constructions. Davids brings in some of the latest linguistic research—including elements of verbal aspect theory—to help him as he explicates these important epistles.
—Stanley E. Porter, president and dean, professor of New Testament, McMaster Divinity College

In this volume, Martin Culy provides a basic lexical, analytical, and syntactical analysis of the Greek text of 1, 2, and 3 John—information often presumed by technical commentaries and omitted by popular ones. But more than just an analytic key, I, II, III John reflects the latest advances in scholarship on Greek grammar and linguistics. The volume also contains recommendations for further reading and an up-to-date bibliography. A perfect supplement to any commentary, I, II, and III John is as equally helpful to language students, of any level, as it is to busy clergy who use the Greek text in preparation for proclamation.
This handbook continues the admirable pattern of applied scholarship displayed in the Acts volume by providing real help for the student, pastor or scholar who wants to make sense of the Greek text of the Johannine epistles. The author's linguistic training as evidenced in his approach to semantics, syntax, and structural features leads to a volume providing information that is simply unavailable in the standard 'commentaries.' Readers will then be better prepared to use those commentaries and to make wise exegetical choices. This volume is miles beyond any 'analytical lexicon' that you may have on your shelf. I heartily recommend this volume and anticipate any future 'handbooks' that are developed along this model.
—William Varner, Master's College, Santa Clarita, CA
Martin Culy (PhD, Baylor) is associate professor of New Testament at Briercrest Biblical Seminary. Culy earned an MA in Linguistics from the University of North Dakota, the MDiv from Grace Theological Seminary, and the PhD from Baylor University.
Product Details
Title: Baylor Handbook on the Greek New Testament Series
Series: Baylor Handbook on the Greek New Testament (BHGNT)
Publisher: Baylor University Press
Volumes: 8
Pages: 2,431