The Doctrine of the Greek Article Applied to the Criticism and Illustration of the New Testament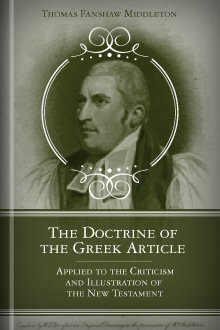 The Doctrine of the Greek Article Applied to the Criticism and Illustration of the New Testament
•
Runs on Windows, Mac and mobile.
$8.00
Reg.: $24.95
Print: $41.75
* Projected price. Future bids may change this price.
Place Your Bid!
Click on the highest price you'd pay. If the final price is lower, that's what you'll pay.
Overview
The Doctrine of the Greek Article Applied to the Criticism and Illustration of the New Testament, by Thomas Fanshaw Middleton, presents a theory to account for all the usages of the Greek article. Middleton responds to inquiry into the use of the Greek article in the New Testament as a whole. The work calls on the opinions of several grammarians regarding the nature and uses of the article. Middleton then goes on to define the article and explore its uses and anomalies within the New Testament. This volume is excellent for linguistic and biblical scholars who want an in-depth understanding of the uses of the Greek article in New Testament Scripture, and its implications for our study and interpretation.
With Logos Bible Software, this valuable volume is enhanced with cutting-edge research tools. Scripture citations appear on mouseover in your preferred English translation. Important terms link to dictionaries, encyclopedias, and a wealth of other resources in your digital library. Powerful topical searches help you find exactly what you're looking for. Tablet and mobile apps let you take the discussion with you. With Logos Bible Software, the most efficient and comprehensive research tools are in one place, so you get the most out of your study.
Key Features
An authoritative study on the uses of the Greek article in the New Testament
Introduction by noted critic Hugh James Rose
A table showing the various Greek appellations of Christ
Contents
Opinions of Grammarians Respecting the Greek Article
Article Defined
Appellatives
Proper Names
Abstract Nouns
Anomalies
With Certain Words
Position in Concord
How Far Classical Rules Respecting the Article Apply to the New Testament
Notes on the New Testament
Product Details
Title: The Doctrine of the Greek Article Applied to the Criticism and Illustration of the New Testament
Author: Thomas Fanshaw Middleton
Publisher: J. and J. J. Deighton
Publication Date: 1833
Pages: 502
About Thomas Fanshaw Middleton
Thomas Fanshaw Middleton (1769–1822) was an Anglican bishop. He graduated from Pembroke College, Cambridge, and was ordained in the Church of England. He served in various locations in Great Britain from 1792 to 1814, when he was appointed the first bishop of Calcutta, India. His see covered not only India, but also the entire territory of the East India Company, including Australia. His other achievements include founding Bishop's College in Calcutta, and becoming a fellow of the Royal Society.